Longview, WA offers a wide range of things to do and see, making it a perfect destination for travelers seeking unique experiences and memorable adventures. Whether you're interested in history, nature, entertainment, or simply exploring vibrant downtown areas, Longview has something for everyone.
Key Takeaways:
Cowlitz County Historical Museum showcases Longview's rich history and culture.
Lake Sacajawea Park, with its Japanese Gardens, offers a serene and picturesque natural setting.
Beaver Falls is a nearby waterfall that provides an opportunity for outdoor exploration.
The Columbia Theatre for the Performing Arts offers live performances for entertainment seekers.
Sam's Mini Golf provides fun-filled entertainment for the whole family.
Downtown Longview boasts a vibrant atmosphere with diverse shopping and dining options.
Explore the Rich History at Cowlitz County Historical Museum
Immerse yourself in the captivating history and culture of Longview at the Cowlitz County Historical Museum, a must-visit attraction for history buffs and curious travelers alike. This museum showcases the fascinating journey of Cowlitz County and offers a deep insight into the region's past. From interactive exhibits to authentic artifacts, the museum provides a comprehensive experience that educates and entertains visitors of all ages.
Step into the museum and embark on a journey through time, as you explore the various galleries that bring the history of Longview to life. The exhibits cover a wide range of topics, including the indigenous communities, logging industry, pioneer settlers, and the development of the city. Get a glimpse of what life was like in the early days through carefully curated displays and informative panels.
One of the highlights of the Cowlitz County Historical Museum is its collection of historical photographs and documents that offer a visual representation of the past. These archives provide a valuable resource for researchers and history enthusiasts, allowing them to delve deeper into the rich heritage of the region. Additionally, the museum hosts educational programs and special events throughout the year, further engaging the community and promoting an appreciation for local history.
Discover Longview's Roots
Longview's intriguing history comes to life at the Cowlitz County Historical Museum, where you can delve into the past and gain a deeper understanding of the city's roots. This captivating attraction is a testament to the enduring legacy of Longview, and a visit here is sure to leave a lasting impression on every visitor.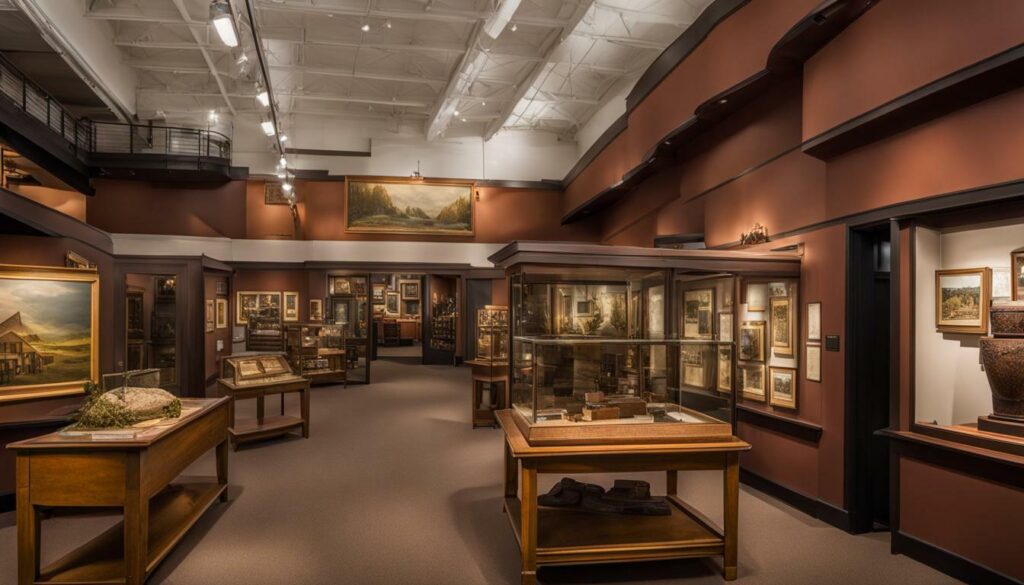 | Opening Hours | Admission | Contact Information |
| --- | --- | --- |
| Monday: Closed | Adults: $5 | Address: 405 Allen St, Kelso, WA 98626 |
| Tuesday-Saturday: 10am-4pm | Seniors (65+), Students (6-18): $2 | Phone: (360) 577-3119 |
| Sunday: 12pm-4pm | Children (5 and under): Free | Email: info@cowlitzhistoricalsociety.org |
Discover Natural Beauty at Lake Sacajawea Park and Beaver Falls
Nature lovers will find solace in the breathtaking landscapes of Longview, with Lake Sacajawea Park and its stunning Japanese Gardens providing a serene oasis, and the magnificent Beaver Falls offering a majestic waterfall experience. Located in the heart of the city, Lake Sacajawea Park spans over 100 acres of lush greenery, walking trails, and picturesque views. The park's Japanese Gardens, meticulously designed with tranquil ponds, vibrant flowers, and traditional architecture, offer a tranquil escape from the hustle and bustle of daily life. Visitors can take a leisurely stroll along the pathways, admiring the beauty of the gardens and reflecting on the peaceful ambiance.
For those seeking a more adventurous experience, a visit to Beaver Falls is a must. Just a short drive from Lake Sacajawea Park, Beaver Falls boasts a spectacular waterfall cascading down impressive rock formations. The rushing water creates a mesmerizing sight and the sound of its cascades is incredibly soothing. Nature enthusiasts can explore the surrounding area, taking in the awe-inspiring beauty of the falls and the surrounding flora and fauna. Whether it's capturing stunning photographs, enjoying a picnic amidst nature, or simply immersing oneself in the tranquility, Beaver Falls provides an unforgettable natural retreat.
"Nature always wears the colors of the spirit." – Ralph Waldo Emerson
Longview, WA offers an abundance of natural attractions, and a visit to Lake Sacajawea Park and Beaver Falls is sure to leave visitors spellbound. The harmonious blend of serene gardens, glistening waters, and the raw power of the waterfall create an enchanting experience for all who venture here. So, embrace the beauty of Longview's natural wonders and let the serenity of Lake Sacajawea Park and the grandeur of Beaver Falls take your breath away.
| Attraction | Description | Location |
| --- | --- | --- |
| Lake Sacajawea Park | A 100-acre park with walking trails, gardens, and scenic views. | Longview, WA |
| Japanese Gardens | A beautiful garden within Lake Sacajawea Park, featuring traditional Japanese design elements. | Longview, WA |
| Beaver Falls | A majestic waterfall located near Lake Sacajawea Park, perfect for nature lovers and photographers. | Longview, WA |
"In every walk with nature, one receives far more than he seeks." – John Muir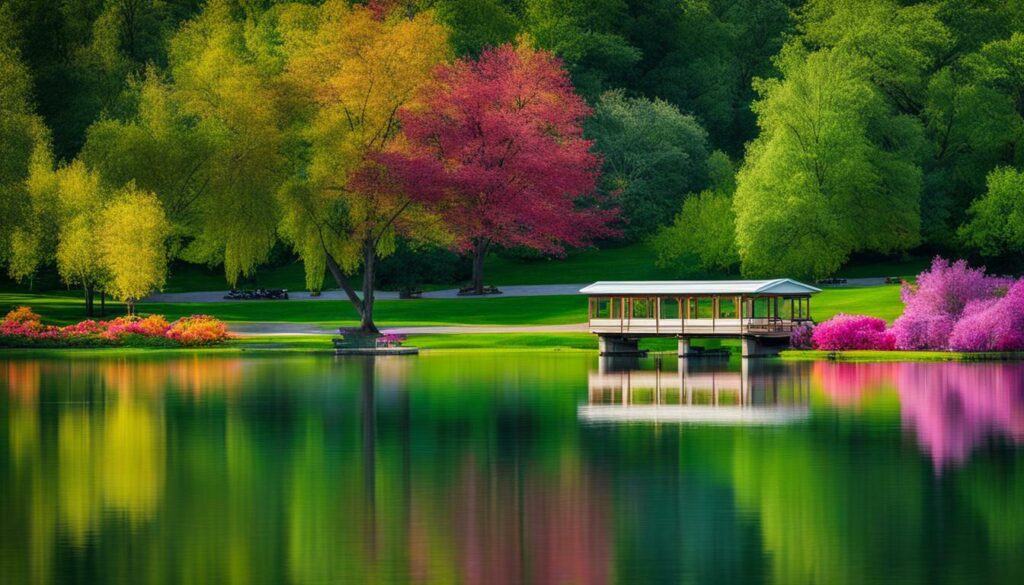 Enjoy Entertainment at Columbia Theatre for the Performing Arts and Sam's Mini Golf
Indulge in the vibrant entertainment scene of Longview at the historic Columbia Theatre for the Performing Arts, where captivating live performances take center stage. This iconic theater, located in the heart of downtown, showcases a variety of shows, including plays, musicals, concerts, and dance performances. With its stunning architecture and state-of-the-art facilities, the Columbia Theatre offers an unforgettable experience for both locals and visitors alike. Whether you're a theater enthusiast or simply looking for a memorable night out, this venue is a must-visit in Longview.
If you prefer a more lighthearted and interactive form of entertainment, head over to Sam's Mini Golf. This family-friendly destination provides a fun-filled experience for all ages. Challenge your skills on the 18-hole mini-golf course, filled with exciting obstacles and themed landscapes. With its charming atmosphere and friendly staff, Sam's Mini Golf is the perfect place to spend quality time with your loved ones. Create lasting memories as you navigate through the course, aiming for the perfect hole-in-one.
A Glimpse of the Entertainment Scene in Longview
Longview's entertainment options extend beyond the Columbia Theatre and Sam's Mini Golf. The city hosts a variety of events and festivals throughout the year, showcasing local talents in music, art, and culture. From live music performances at local venues to outdoor concerts in the park, there's always something happening in Longview that will capture your interest.
Immerse yourself in the local atmosphere by attending one of the many community events, such as the Summer Concert Series or the Arts and Crafts Fair. These events not only provide entertainment but also offer a glimpse into the vibrant community spirit of Longview. With its diverse range of entertainment options, Longview ensures that there is something for everyone to enjoy.
| Venue | Location | Features |
| --- | --- | --- |
| Columbia Theatre for the Performing Arts | Downtown Longview | Live performances, plays, concerts, dance |
| Sam's Mini Golf | Longview | 18-hole mini-golf course, family-friendly |
Whether you're seeking a night of cultural enrichment or a day of family-friendly entertainment, Longview has you covered. Plan your visit to the Columbia Theatre for the Performing Arts to witness awe-inspiring performances or make memories with your loved ones at Sam's Mini Golf. With its unique blend of history, nature, and entertainment, Longview offers a truly unforgettable experience for travelers.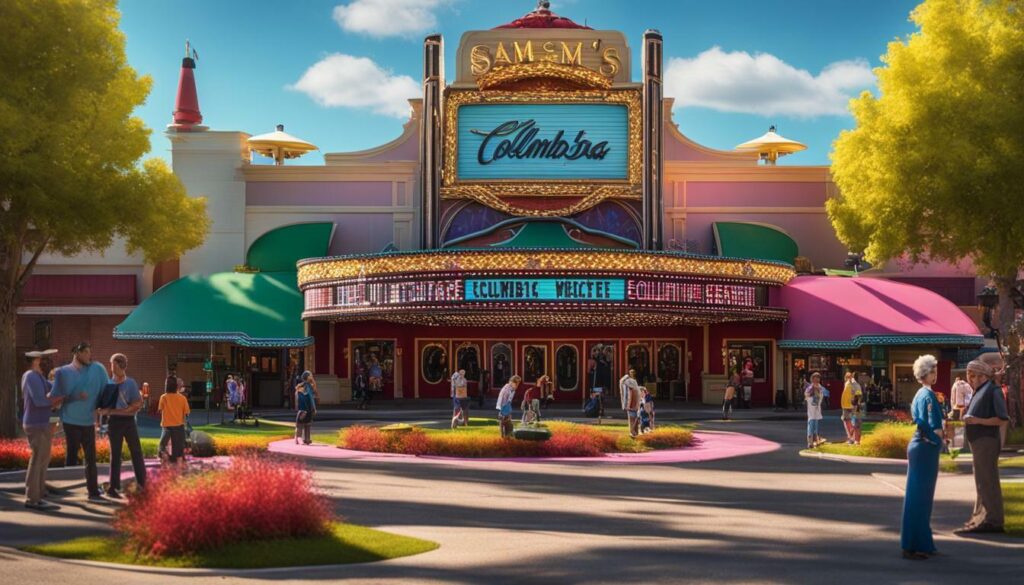 Immerse yourself in the vibrant heart of Longview by exploring its charming downtown, where you can discover unique shopping experiences at boutiques and antique shops and indulge in delectable culinary delights at a range of diverse restaurants.
Whether you're a fashion enthusiast, an antique collector, or a food lover, downtown Longview has something for everyone. Take a leisurely stroll down its bustling streets and explore the hidden treasures tucked away in its boutiques. From trendy clothing stores to one-of-a-kind jewelry shops, you'll find a wide array of fashion-forward options to suit your personal style.
If you're passionate about history and culture, the antique shops in downtown Longview will captivate your imagination. Browse through a curated collection of vintage furniture, collectibles, and unique artifacts that tell the stories of days gone by. With knowledgeable shop owners ready to share their expertise, you're bound to find a special piece that will enhance your own personal collection.
After a day of shopping, treat yourself to a culinary journey through the diverse restaurants scattered throughout downtown Longview. From cozy cafes serving up artisanal coffees and pastries to upscale eateries offering gourmet cuisine, there's a dining experience to satisfy every palate. Indulge in local specialties, savor international flavors, or opt for classic comfort foods – the choice is yours.
With its vibrant atmosphere and a blend of historic charm and modern allure, downtown Longview is a destination that promises an unforgettable experience. Whether you're seeking unique shopping finds, delicious dining options, or simply a place to soak in the vibrant energy of the city, this charming downtown area has it all.