Blaine, WA offers a wide range of thrilling and fun-filled activities for visitors to enjoy. Located near the Canadian border, this charming coastal town is the perfect destination for those seeking adventure and relaxation. Whether you're a nature lover, a food enthusiast, or an outdoor adventurer, Blaine has something to offer for everyone.
Key Takeaways:
Blaine, WA offers a wide range of exciting activities for visitors to enjoy.
Explore the beautiful parks and beaches such as Point Whitehorn Marine Preserve and Birch Bay State Park.
Indulge in the diverse culinary scene at Semiahmoo Resort and Drayton Harbor Oyster Company.
Engage in thrilling outdoor activities like hiking at Mount Baker or biking around Blaine.
Don't miss nearby attractions like Bellingham and Vancouver, BC, and the iconic Peace Arch monument.
Immerse yourself in the natural beauty of Blaine by exploring its stunning parks and beaches. The area is known for its picturesque landscapes and outdoor recreational opportunities. Whether you're a nature lover or simply looking for a peaceful escape, Blaine has something for everyone.
One of the must-visit destinations in Blaine is Point Whitehorn Marine Preserve. This scenic preserve offers breathtaking views of the ocean, rugged cliffs, and forested trails. Take a leisurely stroll along the beach or hike through the coastal forest to experience the beauty of this hidden gem. With its diverse wildlife and tranquil atmosphere, Point Whitehorn Marine Preserve is perfect for nature enthusiasts and photographers.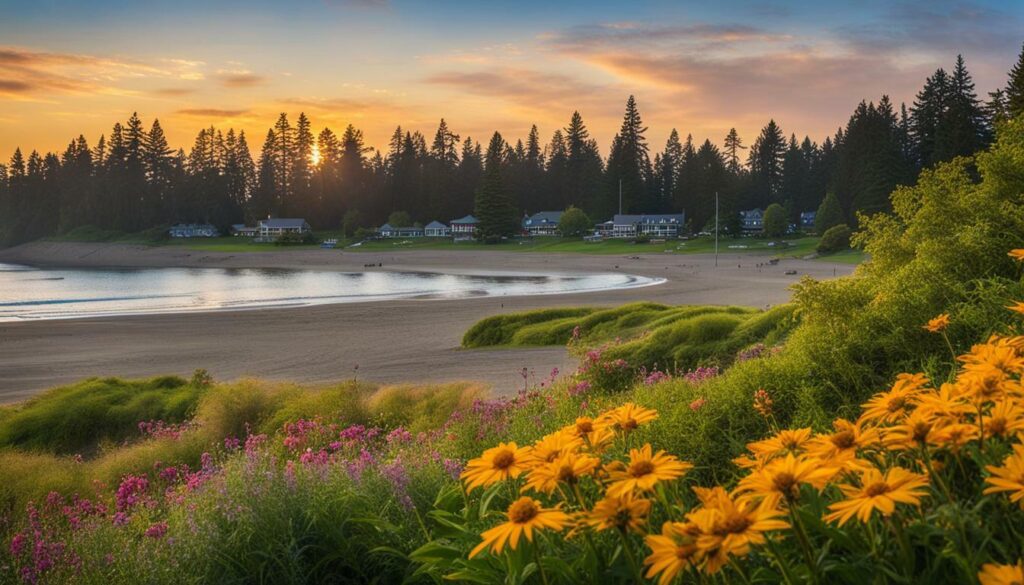 "The area is known for its picturesque landscapes and outdoor recreational opportunities."
Another notable park in Blaine is Birch Bay State Park. This expansive park boasts sandy beaches, lush forests, and stunning views of Birch Bay. It offers a wide range of recreational activities, such as swimming, picnicking, camping, and hiking. Whether you want to relax by the water, have a beachside bonfire, or explore the park's trails, Birch Bay State Park is a fantastic destination for outdoor fun.
| Park | Location | Activities |
| --- | --- | --- |
| Point Whitehorn Marine Preserve | Blaine, WA | Hiking, beachcombing, wildlife viewing |
| Birch Bay State Park | Blaine, WA | Swimming, camping, picnicking, hiking |
Blaine's parks and beaches offer not only stunning natural beauty but also a chance to connect with the outdoors and unwind. Whether you're seeking adventure or simply want to relax and appreciate the serenity of nature, Blaine's parks and beaches are waiting to be explored.
Indulging in Local Dining and Culinary Delights
Treat your taste buds to a culinary adventure in Blaine with its array of delicious dining options. Whether you're craving fresh seafood, Italian cuisine, or tasty comfort food, this charming town has something to satisfy every palate.
For a truly memorable dining experience, head to Semiahmoo Resort, a waterfront destination known for its exceptional cuisine. Indulge in a mouthwatering seafood feast while enjoying breathtaking views of the bay. From perfectly grilled salmon to savory Dungeness crab, every bite is a testament to the region's culinary prowess.
| Restaurant | Cuisine | Must-Try Dish |
| --- | --- | --- |
| Semiahmoo Resort | Seafood | Grilled Salmon |
| Drayton Harbor Oyster Company | Seafood | Fresh Oysters |
| The Rustic Fork | Italian | Pasta Carbonara |
| Alaska Wild Fish & Chip Co. | American | Fish and Chips |
For seafood lovers, a visit to Drayton Harbor Oyster Company is a must. This local gem offers a variety of fresh oysters, shucked right before your eyes. Pair your oysters with a glass of crisp white wine and savor the flavors of the sea.
If you're in the mood for Italian cuisine, look no further than The Rustic Fork. This cozy restaurant serves up authentic dishes like pasta carbonara and wood-fired pizzas. Don't forget to save room for their delectable homemade tiramisu – it's the perfect ending to a wonderful meal.
For a casual and satisfying option, head to Alaska Wild Fish & Chip Co. and feast on their famous fish and chips. Made with locally sourced fish, their crispy batter and perfectly cooked fries will leave you craving more. Grab a seat on their outdoor patio and enjoy your meal with views of the water.
From upscale waterfront dining to casual seafood shacks, Blaine offers a diverse culinary scene that is sure to delight food enthusiasts. So, come and explore the flavors of this charming seaside town – your taste buds will thank you.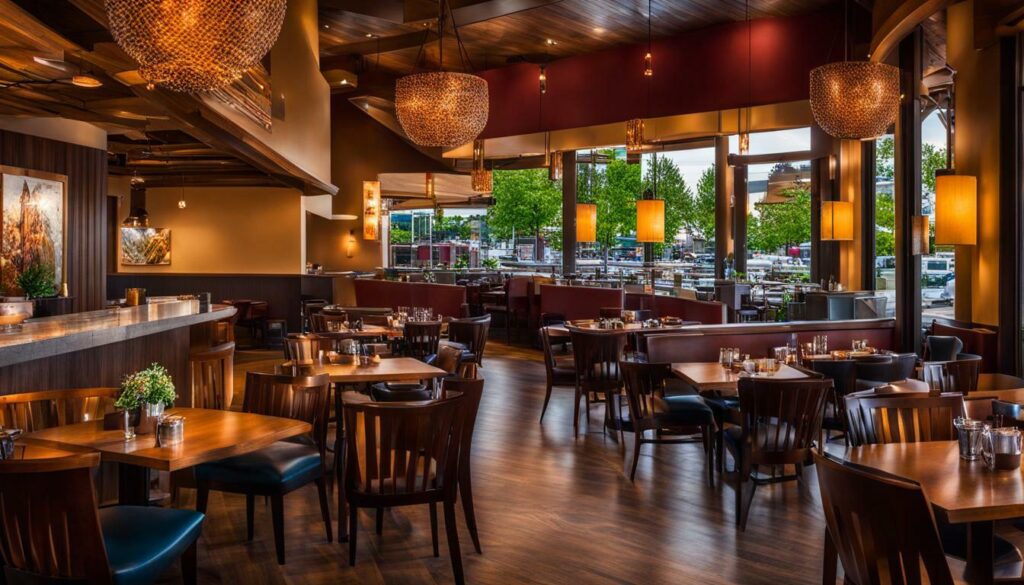 Engaging in Exciting Outdoor Activities and Adventures
Get ready for exhilarating outdoor activities and adventures in Blaine that will satisfy your craving for thrill and excitement. This charming city, located near the Canadian border in Washington state, offers a wide range of options for outdoor enthusiasts.
One must-visit destination for outdoor adventures in Blaine is Mount Baker. With its stunning natural beauty and diverse landscapes, Mount Baker is a playground for hikers, climbers, and nature lovers. Whether you're exploring the picturesque trails or conquering the summit, this majestic mountain will leave you in awe of its breathtaking views.
If you prefer a more leisurely outdoor activity, biking around Blaine is a fantastic option. Hop on a bike and explore the scenic coastal trails, taking in the fresh ocean air and enjoying the picturesque views along the way. It's a fun and relaxing way to immerse yourself in the beauty of Blaine.
For those who enjoy a unique and challenging outdoor activity, head to Lincoln Park for a game of disc golf. This 18-hole course offers a fun and competitive experience for players of all skill levels. Challenge your friends or family to a round of disc golf and see who can come out on top.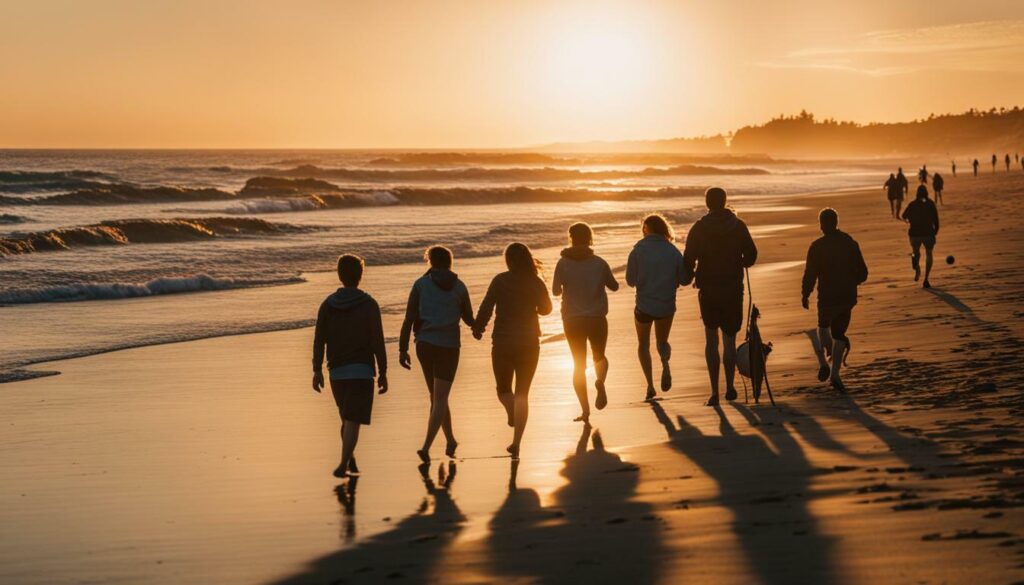 Blaine, WA, is a haven for outdoor enthusiasts with its stunning natural landscapes and thrilling adventures. From conquering Mount Baker's peaks to biking along the coastal trails, there is something for everyone in this picturesque city. So pack your bags, put on your hiking boots or grab your bike, and get ready for a memorable outdoor experience in Blaine.
| Outdoor Activities in Blaine, WA | Location | Highlights |
| --- | --- | --- |
| Hiking and Climbing | Mount Baker | Breathtaking views, diverse landscapes |
| Biking | Coastal trails | Scenic views, fresh ocean air |
| Disc Golf | Lincoln Park | 18-hole course, fun and competitive |
Exploring Nearby Destinations and Attractions
Expand your Blaine adventure by exploring nearby destinations and attractions that offer a wealth of cultural and historical experiences. Just a short drive from Blaine, you'll find the vibrant city of Bellingham. Known for its charming downtown, Bellingham offers a mix of art galleries, boutique shops, and delicious dining options. Take a stroll along the waterfront and enjoy the scenic views of Bellingham Bay or visit the Whatcom Museum to learn about the region's rich history and art.
If you're feeling adventurous, why not cross the border and visit the beautiful city of Vancouver, BC? Known for its multicultural vibe and stunning natural surroundings, Vancouver offers a wide range of attractions to explore. Visit Stanley Park, one of the city's iconic landmarks, and take a leisurely walk along the seawall. Don't miss the opportunity to snap a photo with the iconic Peace Arch monument, a symbol of peace between the United States and Canada.
For art enthusiasts, a visit to the Peace Arch Sculpture Exhibit is a must. Located near the Peace Arch State Park, this outdoor gallery showcases stunning sculptures created by local and international artists. Take your time to appreciate the art and enjoy the peaceful atmosphere of this unique exhibit.
Whether you choose to explore Bellingham or venture across the border to Vancouver, these nearby destinations are sure to add an extra layer of excitement to your Blaine adventure. Immerse yourself in the local culture, indulge in delicious cuisine, and create lasting memories as you discover the diverse attractions that await you.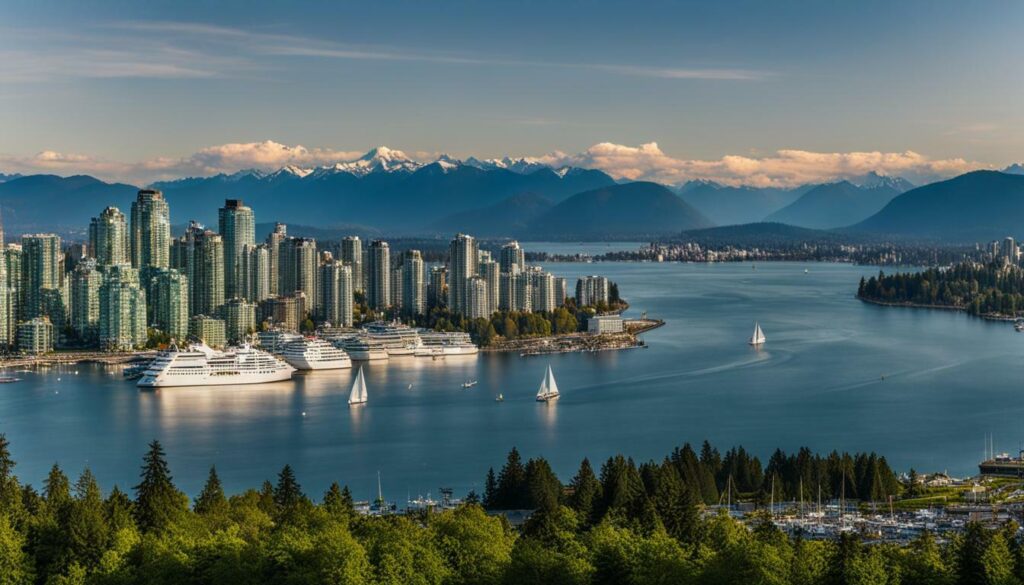 | Attractions | Description |
| --- | --- |
| Stanley Park | A beautiful urban park with lush greenery, scenic views, and recreational activities. |
| Whatcom Museum | A museum showcasing art, history, and culture of the Pacific Northwest. |
| Peace Arch State Park | A park featuring picnic areas, walking trails, and the iconic Peace Arch monument. |
| Whatcom Falls Park | A picturesque park with waterfalls, walking trails, and picnic spots. |
Conclusion
With its stunning parks, delicious dining options, thrilling outdoor activities, and nearby attractions, Blaine, WA is a perfect destination for a memorable and adventure-filled getaway.
Whether you're looking to explore the natural beauty of Point Whitehorn Marine Preserve or Birch Bay State Park, indulge in fresh oysters at Drayton Harbor Oyster Company, or enjoy a cup of coffee at Railway Café, Blaine offers something for everyone.
For outdoor enthusiasts, the opportunities are endless. You can embark on an outdoor adventure at Mt. Baker, go biking around the scenic town of Blaine, or test your skills at the disc golf course in Lincoln Park.
Don't forget to also explore nearby attractions such as the iconic Peace Arch monument, which offers a great opportunity for a memorable photo, or cross the border to Vancouver, BC, for a unique cultural experience.
So, whether you're looking for a relaxing beachside getaway, an adrenaline-pumping outdoor adventure, or a taste of local culinary delights, Blaine, WA has it all. Plan your visit today and embark on a fun-filled journey that you won't soon forget.