Goldsboro, NC offers a variety of fun and exciting activities for visitors and locals alike. Whether you're looking to immerse yourself in history, enjoy the great outdoors, or indulge in delicious food, this vibrant city has something for everyone. From historical sites and cultural attractions to outdoor adventures and a thriving food scene, there's no shortage of things to do in Goldsboro, NC.
Key Takeaways
Goldsboro, NC offers a diverse range of attractions and activities for both visitors and locals.
Explore historical sites, cultural attractions, and entertainment options in the city.
Experience outdoor adventures and indulge in the exciting food scene.
Top attractions include Old Waynesborough Park, Goldsboro Antique Mall, and Wayne County Museum.
Enjoy thrilling escape room experiences at Downtown Escapes.
Discover the Historical Sites and Cultural Attractions in Goldsboro NC
Immerse yourself in the rich history and vibrant culture of Goldsboro, NC by exploring its historical sites and cultural attractions. This charming city offers a variety of experiences that will delight both history buffs and art enthusiasts. With a visit to Old Waynesborough Park, you can step back in time and explore a recreated 19th-century village, complete with historical buildings and artifacts. The park also hosts reenactments and events that bring the history of the area to life.
Another must-visit destination is the Wayne County Museum, where you can delve into the local history through fascinating exhibits and artifacts. The museum showcases the county's cultural heritage, including its military history and contributions to the aviation industry. For lovers of antiques, the Goldsboro Antique Mall is a treasure trove of unique finds. Browse through the wide selection of vintage items and collectibles, and you might just uncover a hidden gem.
If you're interested in the Civil War era, a visit to Goldsboro Bridge Battlefield is a must. This historic site played a crucial role in the war and offers trails and interpretive markers that guide visitors through the significant events that took place there. For a taste of Goldsboro's thriving arts scene, don't miss Goldsboro Brew Works. This local brewery not only offers delicious craft beers but also hosts live music performances and art exhibits, making it a hub of creativity and entertainment in the city.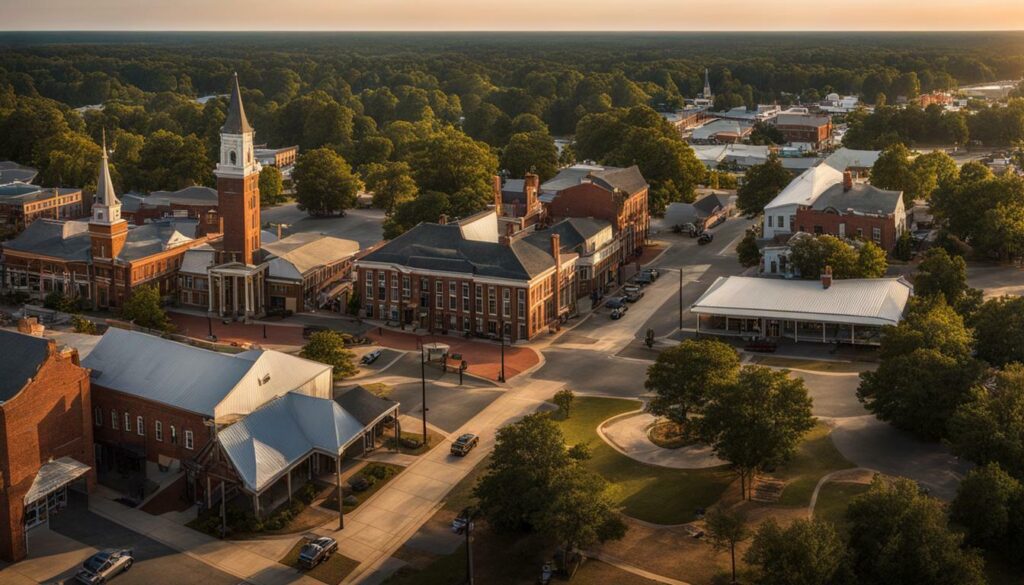 As you explore the historical sites and cultural attractions in Goldsboro, NC, you'll be captivated by the city's heritage and vibrant arts community. Whether you're wandering through Old Waynesborough Park or discovering local artwork at Goldsboro Brew Works, there's no shortage of enriching experiences to enjoy. Soak in the history, immerse yourself in the arts, and create lasting memories in this charming North Carolina city.
Experience Goldsboro NC's Diverse Outdoor Adventures and Exciting Food Scene
Whether you're seeking outdoor adventures or delectable cuisine, Goldsboro, NC has something to offer every visitor. The city is home to a wide range of activities that cater to all interests and ages. For outdoor enthusiasts, Cliffs of the Neuse State Park is a must-visit. This stunning natural area boasts scenic hiking trails, a tranquil lake for fishing and boating, and picnic spots surrounded by breathtaking beauty.
If you're a golf enthusiast, look no further than Goldsboro Municipal Golf Course. This well-maintained course offers a challenging yet enjoyable experience for players of all skill levels. With its lush fairways and manicured greens, it's no wonder why golfers flock to this hidden gem.
When it comes to food and drink, Goldsboro, NC does not disappoint. Indulge your taste buds at Carolina Pine, a popular restaurant known for its mouthwatering barbecue dishes and Southern comfort food. For a unique and fun dining experience, head to Hood Swamp Corn Maze, where you can enjoy delicious farm-to-table meals amidst the backdrop of a picturesque corn maze.
For those craving authentic Mexican cuisine, Mezcalito Goldsboro is the place to be. This vibrant and lively restaurant offers an extensive menu of traditional Mexican dishes, including flavorful tacos, sizzling fajitas, and refreshing margaritas. Whether you're in the mood for outdoor adventures or a culinary exploration, Goldsboro, NC has it all.
FAQ
Q: What are some of the top things to do in Goldsboro, NC?
A: Some of the top things to do in Goldsboro, NC include exploring Old Waynesborough Park, visiting Goldsboro Antique Mall, and checking out the Wayne County Museum. Other popular attractions include Goldsboro Bridge Battlefield, Goldsboro Brew Works, and Busco Beach & ATV Park.
Q: What entertainment options are available in Goldsboro, NC?
A: For those seeking entertainment, Downtown Escapes offers thrilling escape room experiences.
Q: What are some popular food and drink options in Goldsboro, NC?
A: Food and drink options abound in Goldsboro, NC. Some popular choices include Carolina Pine, Hood Swamp Corn Maze, and Mezcalito Goldsboro.
Q: Are there any opportunities for outdoor adventures in Goldsboro, NC?
A: Yes, Goldsboro, NC offers opportunities for outdoor adventures. You can visit Cliffs of the Neuse State Park for outdoor recreational activities, or enjoy golfing at the Goldsboro Municipal Golf Course.