Elkin, North Carolina is a picturesque town nestled in Surry County, known for its abundance of attractions and activities that cater to all interests. Whether you're a wine enthusiast, history buff, outdoor adventurer, or foodie, Elkin has something for everyone to enjoy. One of the town's main draws is its reputation for wineries, particularly in the Yadkin Valley, where you can indulge in wine tasting and explore the scenic vineyards. But that's not all Elkin has to offer. Its rich history, cultural experiences, outdoor adventures, and vibrant downtown scene make it a must-visit destination in North Carolina.
Key Takeaways
Elkin, NC is a charming town with a range of attractions and activities.
The Yadkin Valley wineries are a must-visit for wine enthusiasts.
Explore Elkin's rich history through its historic landmarks and museums.
Outdoor enthusiasts can enjoy hiking, kayaking, and visiting nearby natural attractions.
Downtown Elkin offers unique shopping experiences and a diverse culinary scene.
Explore Elkin's Rich History and Culture
Immerse yourself in the rich history and vibrant culture of Elkin as you explore its historic landmarks and cultural attractions. This charming small town in Surry County, North Carolina, has a fascinating past and offers a range of experiences for visitors to enjoy.
Elkin is home to several historic landmarks that showcase the town's heritage. One notable site is the Elkin Historic District, which encompasses a collection of well-preserved buildings from the late 19th and early 20th centuries. Strolling through this district is like stepping back in time, with its beautiful architecture and charming atmosphere.
One of the must-visit landmarks in Elkin is the historic Reeves Theater. Originally opened in 1941 as a movie theater, it has now been restored and transformed into a popular music venue that hosts a variety of performances and events. The theater is a beloved cultural hub in Elkin, providing a space for locals and visitors to come together and enjoy live music and entertainment.
Elkin's rich history and culture can be experienced through its various museums and heritage centers. The Foothills Arts Council Gallery, located in downtown Elkin, showcases works by local artists and hosts rotating exhibits throughout the year. Another notable museum is the Elkin Valley Historical Society Museum, which offers a glimpse into the town's past through its collection of artifacts and exhibits.
Elkin also boasts a vibrant arts scene, with numerous galleries and studios where visitors can admire and purchase works of art. The town's commitment to fostering creativity is evident in events like the Yadkin Valley Wine Festival, which combines the area's wine culture with live music, art vendors, and delicious food. The festival is a true celebration of the region's unique heritage and showcases the best of Elkin's culture.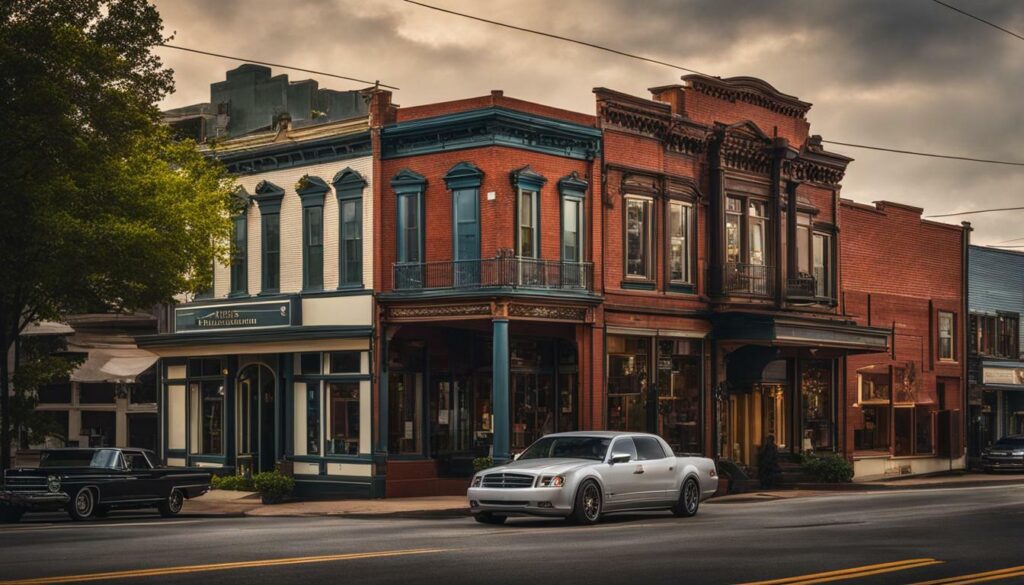 In conclusion, Elkin, North Carolina, offers a delightful blend of history and culture for visitors to explore. From its historic landmarks to its vibrant arts scene, there is something for everyone to enjoy. So, come and immerse yourself in the charm and heritage of Elkin as you discover the rich history and cultural experiences this small town has to offer.
Indulge in Wine Tasting at the Yadkin Valley Wineries
Embark on a wine lover's paradise in Elkin, as you visit the acclaimed Yadkin Valley wineries and indulge in unforgettable wine tasting experiences. Located in Surry County, Elkin is nestled in the heart of the Yadkin Valley wine region, known for its picturesque vineyards and award-winning wines. Whether you're a seasoned wine enthusiast or just starting to explore the world of wine, Elkin offers an array of wineries that cater to every palate.
One of the must-visit wineries in Elkin is Jones von Drehle Vineyards and Winery, known for its European-inspired wines that showcase the distinct terroir of the Yadkin Valley. Take a leisurely stroll through the vineyards, learn about the winemaking process on a guided tour, and sample their exquisite wines in their charming tasting room.
Another notable winery in the area is Elkin Creek Vineyard, a family-owned and operated winery that offers a unique experience for wine lovers. Housed in a restored 1896 mill, the winery exudes rustic charm and offers a serene atmosphere for wine tasting. Sip on their handcrafted wines while enjoying the picturesque views of Big Elkin Creek.
Yadkin Valley Wineries: A Tasting Experience Like No Other
In addition to Elkin, the Yadkin Valley region is home to numerous wineries that are definitely worth a visit. From boutique wineries to sprawling estates, each winery offers its own distinct ambiance and a wide selection of wines to suit every taste. Some of the notable wineries in the area include Raffaldini Vineyards and Winery, Herrera Vineyards, and Shelton Vineyards.
When planning your wine tasting adventure in Elkin and the Yadkin Valley, be sure to check each winery's website for their tasting room hours and any special events or promotions they may have. Many wineries also offer tours, allowing you to get a behind-the-scenes look at their winemaking process and vineyards. Whether you're sipping a full-bodied red or a crisp white, the Yadkin Valley wineries are sure to delight your senses and leave you with a newfound appreciation for North Carolina's thriving wine industry.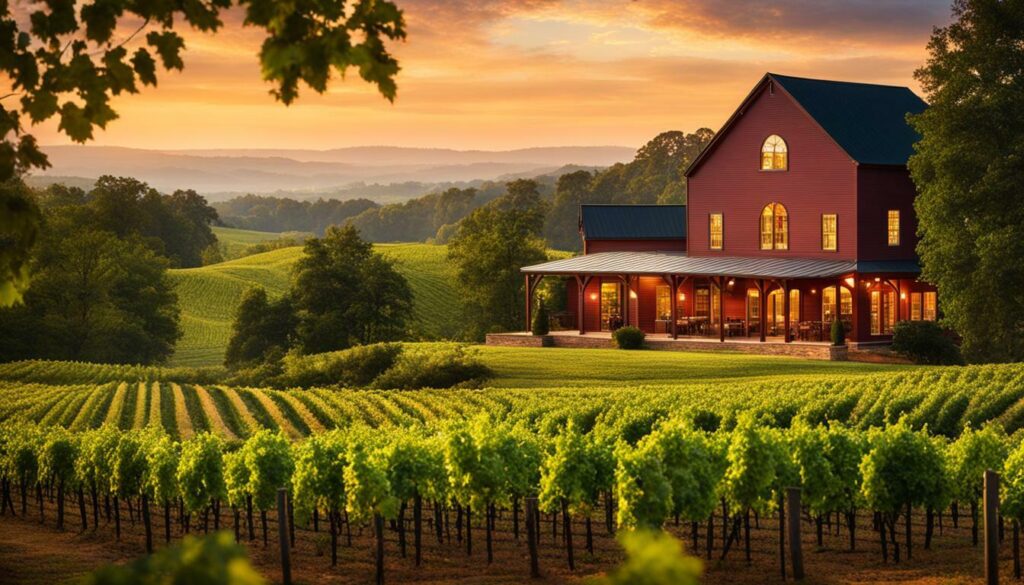 | Winery | Location | Specialty Wines |
| --- | --- | --- |
| Jones von Drehle Vineyards and Winery | Thurmond, NC | European-inspired wines |
| Elkin Creek Vineyard | Elkin, NC | Handcrafted wines |
| Raffaldini Vineyards and Winery | Ronda, NC | Italian varietals |
| Herrera Vineyards | Dobson, NC | Signature sangria |
| Shelton Vineyards | Dobson, NC | Signature series wines |
Experience Outdoor Adventure in Elkin
Nature enthusiasts will find their bliss in Elkin, with a plethora of outdoor activities waiting to be explored, from scenic hiking trails to thrilling kayaking adventures. Surrounded by breathtaking natural beauty, Elkin offers a haven for those seeking an adrenaline rush and a deep connection with the great outdoors.
One of the highlights of Elkin's outdoor offerings is its extensive network of hiking trails. Whether you're a novice hiker or an experienced trekker, there's a trail to suit every skill level. From the challenging summit of Stone Mountain to the idyllic tranquility of Elkin's Greenway Trail, each hike promises stunning views and a chance to immerse yourself in nature's embrace.
For those who prefer to take to the water, kayaking on the Yadkin River is a must-do activity. The gentle flow of the river allows for a relaxing paddle while taking in the picturesque surroundings. Whether you're a beginner or an expert kayaker, the Yadkin River provides the perfect setting for a day of adventure on the water.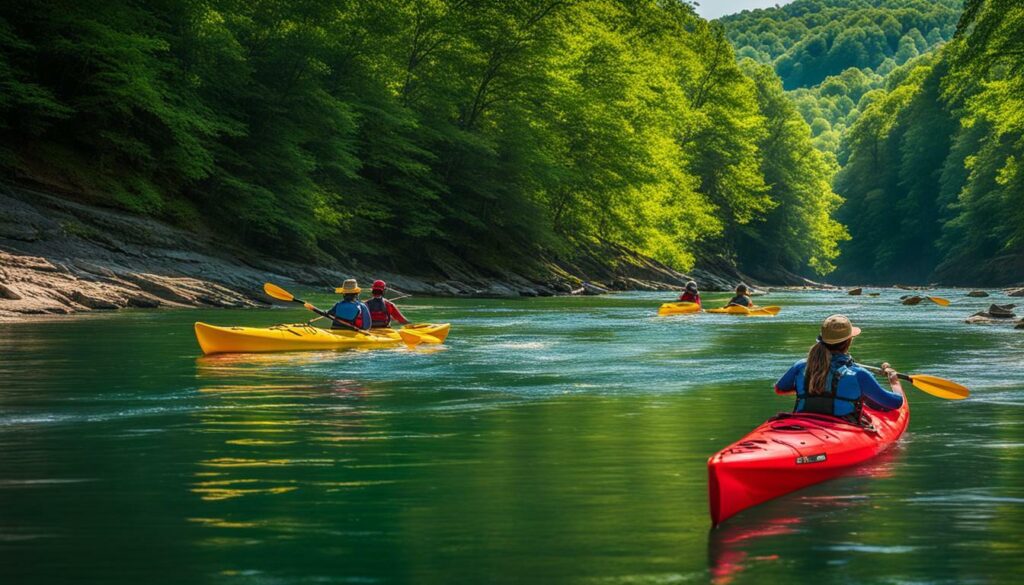 Elkin is also a gateway to nearby natural attractions. Just a short drive away, you'll find the majestic beauty of Pilot Mountain and the rugged trails of Stone Mountain State Park. These iconic landmarks offer breathtaking vistas, challenging hikes, and a chance to witness the awe-inspiring power of nature. Whether you're conquering the heights of Pilot Mountain or exploring the hidden waterfalls of Stone Mountain, these natural wonders are sure to leave a lasting impression.
With its diverse range of outdoor activities, from hiking and kayaking to exploring nearby natural attractions, Elkin truly has something for everyone. So, grab your gear and get ready to embark on an unforgettable adventure in this charming North Carolina town.
Discover Downtown Elkin's Shopping and Dining Scene
Uncover the heart of Elkin in its lively downtown, where you can shop to your heart's content and savor delectable culinary delights at the town's charming restaurants. Downtown Elkin offers a variety of unique shops and boutiques, perfect for those looking for one-of-a-kind treasures. From handmade crafts to vintage finds, you're sure to find something special to take home as a memento of your visit to Elkin, NC.
For fashion enthusiasts, downtown Elkin is a hidden gem. You'll find stylish and trendy clothing boutiques that cater to all tastes and preferences. Whether you're looking for the latest fashion trends or timeless classics, the shops in Elkin have you covered. With friendly and knowledgeable staff, you'll enjoy personalized shopping experiences that are hard to find elsewhere.
After a day of shopping, satisfy your appetite at one of the delightful restaurants in Elkin. From cozy cafes to upscale dining establishments, the culinary scene in downtown Elkin has something for every palate. Indulge in farm-to-table cuisine made with locally sourced ingredients, or savor international flavors that will transport your taste buds. With its charming atmosphere and friendly service, dining in downtown Elkin is an experience not to be missed.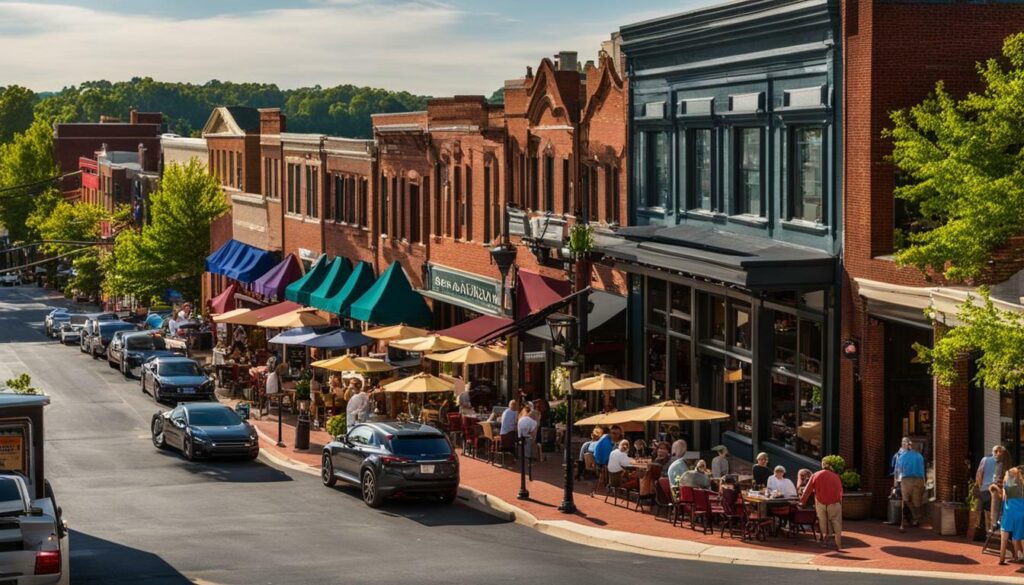 As you explore downtown Elkin, be sure to catch a show at the Reeves Theater, a historic music venue that hosts a variety of live performances throughout the year. From local bands to nationally acclaimed artists, the Reeves Theater offers a diverse lineup that caters to all music lovers. Immerse yourself in the vibrant arts scene of Elkin and make lasting memories.
Discover Downtown Elkin's Shopping and Dining Scene – Summary:
Explore the unique shops and boutiques in downtown Elkin, offering a variety of treasures and fashion finds.
Indulge in the culinary delights of downtown Elkin's charming restaurants, serving farm-to-table cuisine and international flavors.
Experience the vibrant arts scene at the Reeves Theater, a historic music venue showcasing live performances.
| Attractions | Highlights |
| --- | --- |
| Unique Shops and Boutiques | Find one-of-a-kind treasures and stylish fashion finds. |
| Charming Restaurants | Savor farm-to-table cuisine and international flavors in a delightful setting. |
| Reeves Theater | Experience live performances and immerse yourself in the vibrant arts scene of Elkin. |
Conclusion
With its charming small-town vibe, picturesque wineries, rich history, and abundant outdoor activities, Elkin, NC is a must-visit destination that truly has something for everyone.
Famous for its wineries in the Yadkin Valley, Elkin offers much more than just wine tasting. Visitors can explore the town's history, stay in unique accommodations like the Six28 House, and attend local festivals and events such as the Yadkin Valley Wine Festival and NC Trail Days.
Outdoor enthusiasts will find plenty to do in Elkin, including hiking and biking trails, kayaking on the Yadkin River, and visiting nearby attractions like Stone Mountain State Park and Pilot Mountain. The natural beauty of the area is sure to captivate adventure seekers.
Downtown Elkin is a vibrant hub with a variety of shops, restaurants, and the Reeves Theater, a popular music venue. Whether you're looking for unique shopping experiences or a taste of the local culinary scene, downtown Elkin has something to offer.
Overall, Elkin, NC is a destination that combines culture, outdoor adventure, and culinary delights. Its charm, wineries, historic landmarks, and range of attractions make it a perfect getaway for travelers looking for a memorable experience in a beautiful setting.