Looking for an exciting getaway? Discover the plethora of things to do in Owatonna MN that will keep you entertained and enthralled throughout your visit. From outdoor adventures to cultural experiences, this charming city in Minnesota offers a range of activities for all ages and interests.
Key Takeaways:
Unleash your inner adventurer at Kaplan's Woods Park with its extensive network of trails.
Enjoy hiking, biking, and trail running in the midst of nature's beauty.
Experience the local culture through art exhibitions and educational programs at Owatonna Arts Center.
Discover the rich heritage of Owatonna through diverse artistic expressions.
Delve into the fascinating history of orphaned children at the Minnesota Orphanage Museum.
Explore interactive exhibits and artifacts that bring their stories to life.
Encounter rare reptile and amphibian species at the Reptile and Amphibia Discovery Zoo.
Expand your knowledge about these intriguing creatures in a safe and educational setting.
Explore Kaplan's Woods Park for Outdoor Adventure
Nature lovers and outdoor enthusiasts will find their paradise at Kaplan's Woods Park, a scenic destination offering seven miles of trails for hiking, biking, and trail running. With its diverse landscape and abundant wildlife, this park is a must-visit for those seeking adventure in Owatonna, Minnesota.
For hikers, the trails at Kaplan's Woods Park offer a range of difficulty levels, from easy strolls to challenging hikes. As you explore the park, you'll be surrounded by towering trees, tranquil ponds, and beautiful wildflowers. Keep an eye out for the park's resident birds and wildlife, including deer, foxes, and various species of birds.
If you prefer biking, Kaplan's Woods Park has well-maintained trails that cater to cyclists of all skill levels. Whether you're a beginner or an experienced rider, you'll have a blast navigating through the park's winding paths and enjoying the picturesque views along the way. Don't forget to bring your own bike or rent one from a local shop.
Trail runners will also find plenty to love at Kaplan's Woods Park. The park's trails provide a challenging terrain, with varying elevations and surfaces that will put your endurance to the test. Lace up your running shoes and embark on an invigorating run through the park, surrounded by the sights and sounds of nature.
Immerse Yourself in Nature
Kaplan's Woods Park is not just a place for outdoor activities, but also a haven for nature enthusiasts. Take a moment to pause during your adventure and soak in the serenity of the surroundings. Nestled in the heart of Owatonna, this park offers a tranquil escape from the hustle and bustle of city life.
Plan Your Visit
Before heading to Kaplan's Woods Park, make sure to check the park's website for any updates or closures. Pack essential supplies such as water, snacks, sunscreen, and insect repellent. Be respectful of the park's rules and regulations, and leave no trace of your visit by properly disposing of any trash.
| | |
| --- | --- |
| Address: | 1558 Leif Erickson Drive, Owatonna, MN 55060 |
| Opening Hours: | Dawn to Dusk |
| Parking: | Free parking available at the park |
| Contact: | Phone: (507) 774-7363 |
Embark on an unforgettable outdoor adventure at Kaplan's Woods Park. Whether you're hiking, biking, or trail running, this scenic destination will captivate your senses and leave you with lasting memories of your time in Owatonna.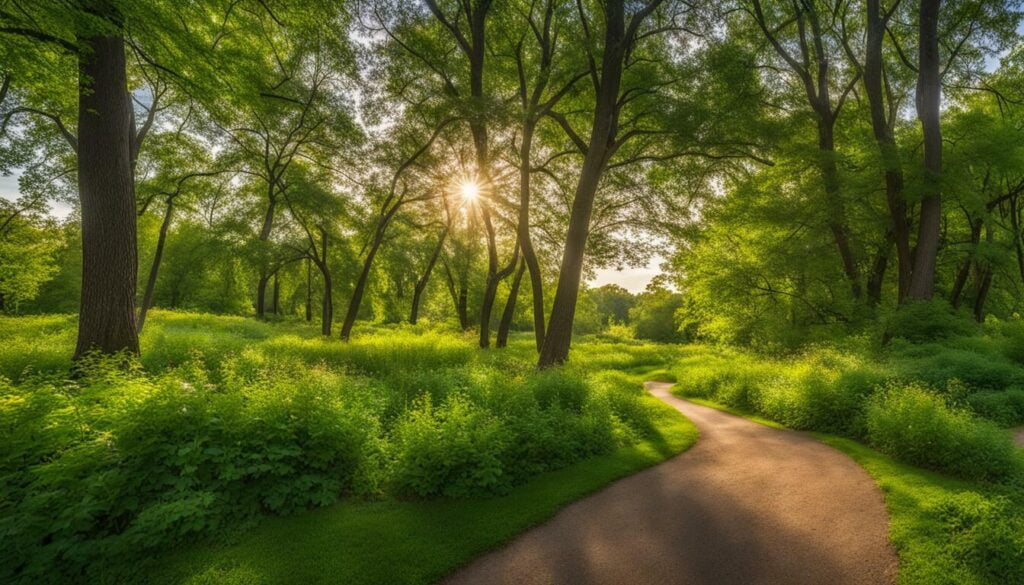 Delve into the vibrant local culture and artistic heritage of Owatonna at the Owatonna Arts Center, where art exhibitions and educational programs showcase the region's rich history. This cultural hub is a treasure trove of artistic expression, offering visitors a glimpse into the diverse art forms that have shaped the community.
Step inside the center and be greeted by a vast collection of artwork that spans various mediums, from paintings and sculptures to photography and mixed media. Each exhibit tells a unique story, shedding light on the talented artists who have called Owatonna home.
The Owatonna Arts Center also offers educational programs and workshops for both adults and children. These interactive experiences provide an opportunity to learn new skills and explore different artistic techniques. Whether you're a seasoned artist looking to expand your knowledge or a beginner eager to discover your creative side, the center has something for everyone.
Local Culture and History at its Finest
"The Owatonna Arts Center truly serves as a cultural hub for our community. It allows us to celebrate our local talent, explore our history, and foster a love for the arts. There's always something new and exciting happening here, making it a must-visit for both residents and tourists alike." – Local artist and center supporter, Jane Davis
In addition to its captivating exhibits and educational programs, the Owatonna Arts Center hosts a variety of events throughout the year. From art fairs and live performances to lectures and poetry readings, there's always something happening that celebrates the local culture and history.
Plan your visit to the Owatonna Arts Center and immerse yourself in the beauty of local art, culture, and history. It's a destination that will inspire, educate, and leave you with a greater appreciation for the vibrant community of Owatonna.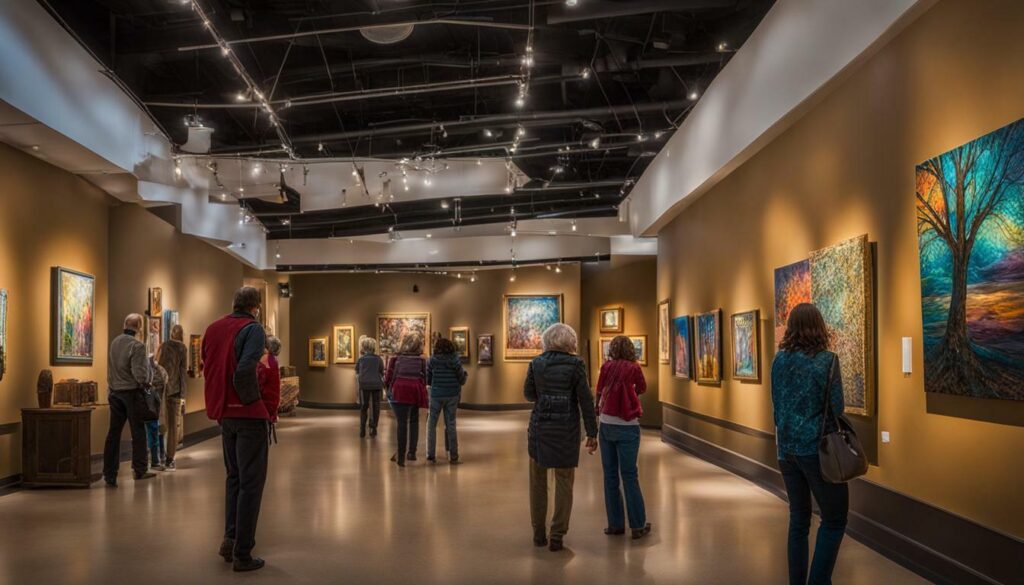 | Date | Event |
| --- | --- |
| June 15, 2022 | Art Fair Extravaganza |
| July 1, 2022 | Live Music Night: Jazz in the Park |
| August 10, 2022 | Photography Workshop: Mastering Light and Shadow |
| September 5, 2022 | Author Talk: Exploring Owatonna's Literary History |
Discover the Fascinating History of Minnesota Orphanage Museum
Step back in time and gain insight into the lives of orphaned children at the captivating Minnesota Orphanage Museum, where fascinating stories of resilience and community await. This unique museum preserves the history and memories of those who grew up in the orphanage, offering a glimpse into their experiences and the challenges they faced.
The museum is housed in the original building that once served as the Minnesota State Public School for Dependent and Neglected Children. As you walk through the halls, you'll be transported to a different era, surrounded by artifacts, photographs, and personal accounts that chronicle the lives of the children who called this place home.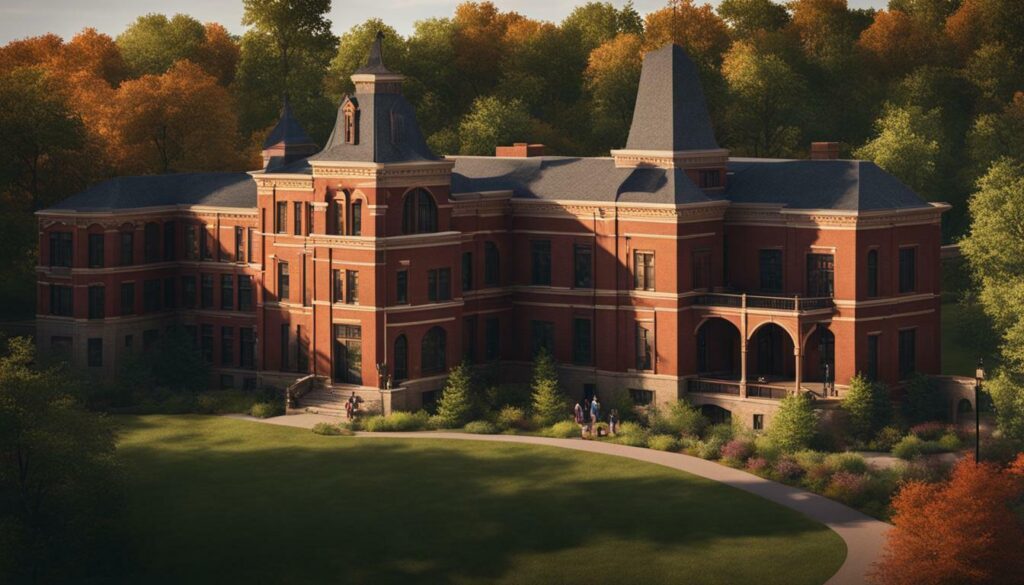 The exhibits at the museum highlight the daily routines, educational opportunities, and recreational activities that were part of the children's lives. From the dormitories to the classrooms, you'll see how the staff and volunteers nurtured and cared for these young souls, creating a sense of belonging and hope.
Visitors will also have the chance to explore the beautiful grounds surrounding the museum, which include gardens, walking paths, and play areas. It's a serene and peaceful setting that provides a space for reflection and contemplation.
Highlights of the Minnesota Orphanage Museum:
Authentic artifacts and photographs
Personal stories and accounts from former residents
Interactive exhibits that offer a hands-on experience
A tranquil outdoor garden and grounds
Whether you have a personal connection to the orphanage or simply have an interest in history, a visit to the Minnesota Orphanage Museum is a must. It's a place where the past comes alive, and where the resilience and spirit of orphaned children are celebrated and remembered.
Location
Opening Hours
Contact Information
123 Main Street, Owatonna, Minnesota
Monday-Saturday: 10am-5pm
Sunday: 1pm-5pm
Phone: 555-1234
Email: info@mnorphanagemuseum.org
Encounter Rare Reptiles at the Reptile and Amphibia Discovery Zoo
Get up close and personal with a diverse array of rare reptiles and fascinating amphibians at the Reptile and Amphibia Discovery Zoo, a one-of-a-kind destination that will leave you in awe. Located in Owatonna, Minnesota, this unique zoo offers an immersive experience where visitors can marvel at the beauty and diversity of these incredible creatures.
Step into a world filled with slithering snakes, majestic lizards, and captivating frogs. The Reptile and Amphibia Discovery Zoo is home to a wide variety of species from around the world, showcasing the wonders of the reptile and amphibian kingdoms. From the graceful movements of the chameleons to the mesmerizing patterns on the snakes' scales, every moment spent at this zoo is a fascinating journey into the natural world.
As you explore the zoo, you'll have the opportunity to learn about the unique characteristics and behaviors of each species. Knowledgeable staff members are always ready to provide informative talks and answer any questions you may have. You can also witness captivating feedings and educational presentations, gaining a deeper understanding of these incredible creatures.
| Quick Facts | Reptile and Amphibia Discovery Zoo |
| --- | --- |
| Location: | Owatonna, Minnesota |
| Species: | A wide variety of rare reptiles and fascinating amphibians |
| Activities: | Informative talks, feedings, educational presentations |
| Highlights: | Opportunity to learn about unique species and their behaviors |
| Image: | |
A visit to the Reptile and Amphibia Discovery Zoo is a truly unforgettable experience. Whether you're a reptile enthusiast or simply curious about the natural world, this zoo offers a fantastic opportunity to witness these incredible creatures up close. Plan your visit today and prepare to be amazed!
Discover the Reptile and Amphibia Discovery Zoo:
Location: Owatonna, Minnesota
Species: Rare reptiles and fascinating amphibians
Activities: Informative talks, feedings, educational presentations
Highlights: Learn about unique species and their behaviors
Uncover History and Architecture at National Farmers Bank
Explore the stunning historic architecture of the National Farmers Bank, masterfully designed by renowned architect Louis Sullivan, and take a journey into Owatonna's rich past. This iconic building, located in the heart of downtown, is a testament to the city's history and an architectural gem.
Step inside and be transported back in time as you marvel at the intricate details and craftsmanship of the bank's interior. The National Farmers Bank, originally completed in 1908, showcases Sullivan's signature style, characterized by organic ornamentation and intricate decorative elements.
As you wander through the bank's halls, you'll be captivated by the stained glass windows, ornate ironwork, and the distinctive design that seamlessly blends form and function. The building's unique architectural elements have earned it a place on the National Register of Historic Places.
Don't miss the opportunity to learn about the history of the National Farmers Bank and its significance to Owatonna. Guided tours are available, providing fascinating insights into the bank's role in the local community and its impact on the region's economic development.