Marblehead, MA is a hidden gem with a rich history and plenty of activities to enjoy. Nestled on the coast of Massachusetts, this charming town offers a range of attractions and points of interest that cater to all interests. Whether you're a history enthusiast, outdoor adventurer, or art lover, Marblehead has something for everyone.
Key Takeaways:
Marblehead, MA is a picturesque coastal town with a rich historical background.
Explore the town's historical sites and museums, including the Marblehead Museum and Jeremiah Lee Mansion.
Embark on outdoor adventures and enjoy scenic views at Fort Sewall and Gerry Island.
Experience the vibrant community spirit at the Marblehead Festival of Arts and other local events.
Indulge in water sports and outdoor activities, such as paddleboarding and chartered boat rides.
Stay at the centrally located and comfortable Harbor Light Inn during your visit to Marblehead.
Historical Sites and Museums
Begin your exploration of Marblehead's history by visiting Abbott Hall, a town hall with a fascinating historical background. This iconic building has served as a center of community life since 1876, hosting events and housing various historical artifacts. Step inside to admire the stunning architecture and learn about Marblehead's rich heritage.
Continue your journey through Marblehead's past at the Marblehead Museum, located in the heart of the town. The museum's art gallery showcases the works of renowned Marblehead native J.O.J. Frost, offering an insight into the town's artistic legacy. Explore the gallery's diverse collection, which includes paintings, sculptures, and other visual art forms that capture the essence of Marblehead.
For a glimpse into the opulent lifestyle of Marblehead's elite, visit the Jeremiah Lee Mansion. This Georgian-style home, built in 1768, is a National Historic Landmark and offers guided tours that provide a fascinating look into colonial life. Marvel at the stunning architecture, exquisite period furnishings, and captivating stories of the mansion's former inhabitants.
A leisurely stroll through Marblehead's Old Town is like stepping back in time. The narrow streets are lined with beautifully preserved historic homes, some dating back to the 17th century. Take a self-guided walking tour and admire the architectural styles that have shaped Marblehead's unique character.
No visit to Marblehead's historical sites would be complete without a visit to the King Hooper Mansion. Built in 1728, this Georgian-style mansion now houses art galleries that display works by local and regional artists. Immerse yourself in the vibrant art scene of Marblehead, exploring a diverse range of mediums and styles.
As you continue your exploration, don't miss the Old Town House, where you can learn about the Civil War and the Grand Army of the Republic. This historic building served as a meeting place for veterans and houses an extensive collection of artifacts and memorabilia.
For a mix of history and natural beauty, head to Fort Sewall. Originally built as a defensive fort in the 18th century, it has since been converted into a waterfront park. Enjoy a leisurely walk along the fort's walls, taking in panoramic views of Marblehead Harbor and the surrounding coastline.
During low tide, make your way to Gerry Island for a unique adventure. Connected by a causeway, this small island offers a serene escape and stunning views of the Atlantic Ocean. Take a picnic, relax on the beach, or explore the island's rocky shoreline.
Another must-visit spot in Marblehead is Chandler Hovey Park, home to the picturesque Marblehead Lighthouse. This iconic landmark, built in 1896, offers breathtaking views of the harbor and the open ocean. Take a leisurely stroll through the park and soak in the beauty of the lighthouse against the backdrop of the sea.
For a taste of local cuisine, make sure to indulge in a lobster roll at Little Harbor Lobster Company. This charming seafood shack is the perfect spot to savor fresh seafood while enjoying the waterfront ambiance.
Wrap up your historical exploration of Marblehead at Old Burial Hill. This historic graveyard, dating back to the 17th century, offers stunning views of Marblehead Harbor. As you wander among the weathered gravestones, take a moment to reflect on the town's past and appreciate the beauty of this serene resting place.
| Historical Sites and Museums | SEO Keywords |
| --- | --- |
| Abbott Hall | Marblehead historical sites |
| Marblehead Museum | Marblehead Museum |
| Jeremiah Lee Mansion | Jeremiah Lee Mansion |
| Old Town House | Old Town House |
| King Hooper Mansion | King Hooper Mansion |
| Old Burial Hill | Old Burial Hill |
Outdoor Adventures and Scenic Views
Immerse yourself in Marblehead's natural beauty by visiting the town's beaches, such as Devereux Beach or Preston Beach. These picturesque sandy shores offer the perfect setting for a leisurely day by the water, with ample space for sunbathing, picnicking, or simply taking a relaxing stroll along the coastline.
For history enthusiasts, a visit to Fort Sewall is a must. This 18th-century fort turned waterfront park offers stunning panoramic views of Marblehead Harbor and the surrounding islands. Take a moment to soak in the serene atmosphere while gazing out at the sparkling blue waters.
Another hidden gem in Marblehead is Gerry Island, accessible during low tide. This small island provides a unique opportunity to explore the rugged coastline and observe the local wildlife. As you venture across the tidal flats, keep an eye out for seashells, crabs, and other marine treasures.
No visit to Marblehead would be complete without a trip to Chandler Hovey Park, home to the iconic Marblehead Lighthouse. This picturesque spot offers breathtaking views of the Atlantic Ocean and the historic lighthouse, making it a popular destination for photographers and nature lovers alike.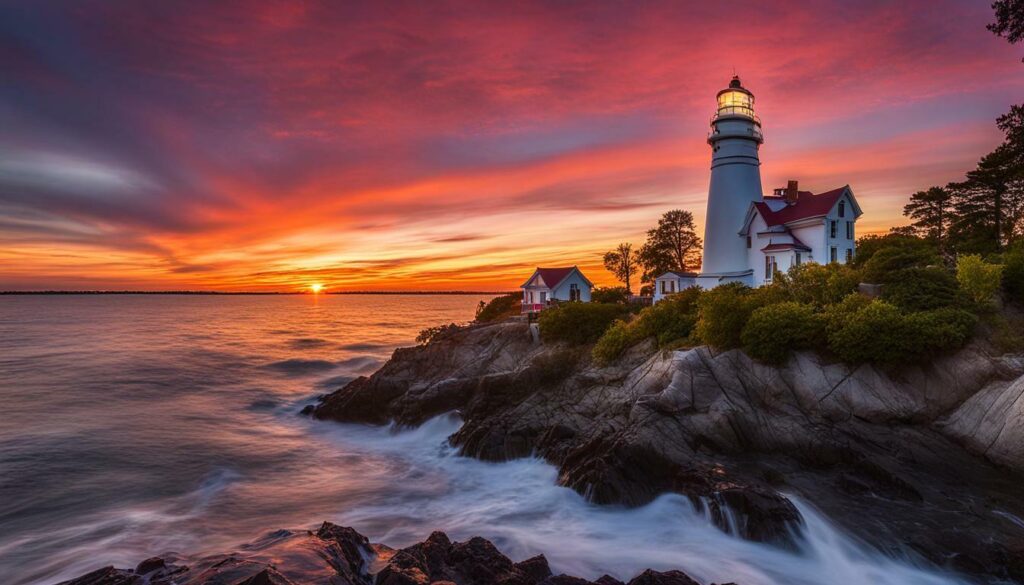 | Attraction | Description |
| --- | --- |
| Devereux Beach | A beautiful sandy beach with calm waters, perfect for sunbathing and swimming. |
| Preston Beach | A quiet and secluded beach offering a peaceful escape from the crowds. |
| Fort Sewall | An 18th-century fort transformed into a scenic waterfront park with stunning views of Marblehead Harbor. |
| Gerry Island | A small island accessible during low tide, ideal for nature exploration and birdwatching. |
| Marblehead Lighthouse | An iconic lighthouse perched on a rocky shoreline, providing breathtaking views of the Atlantic Ocean. |
| Chandler Hovey Park | A picturesque park featuring the Marblehead Lighthouse and offering panoramic views of the ocean. |
With its beaches, parks, and historic landmarks, Marblehead offers a wealth of outdoor adventures and scenic views. Soak in the natural beauty, explore the coastline, and capture the essence of this charming Massachusetts town.
Festivals and Events
Experience the charm of Marblehead by attending the Marblehead Festival of Arts, a celebration of local creativity. This annual event showcases the talents of artists, musicians, and performers from the area, offering a vibrant display of art exhibitions, live music, theater performances, and more. The festival, held in the heart of Marblehead, brings the community together and provides a platform for artists to share their work with both locals and visitors.
One of the highlights of the Marblehead Festival of Arts is the juried art show, where artists compete for recognition and prestigious awards. The exhibition features a wide range of artworks, including paintings, sculptures, photography, and mixed media pieces. Strolling through the art show, visitors can admire the creativity and skill of the participating artists while enjoying the picturesque backdrop of Marblehead's historic streets.
In addition to the Marblehead Festival of Arts, another exciting event to attend is the Glover's Regiment Summer Encampment. This historical reenactment takes place at Fort Sewall and provides a unique opportunity to step back in time and experience life during the Revolutionary War. Visitors can witness military drills, musket demonstrations, and interact with reenactors dressed in period costumes. This immersive event offers an educational and entertaining experience for history enthusiasts of all ages.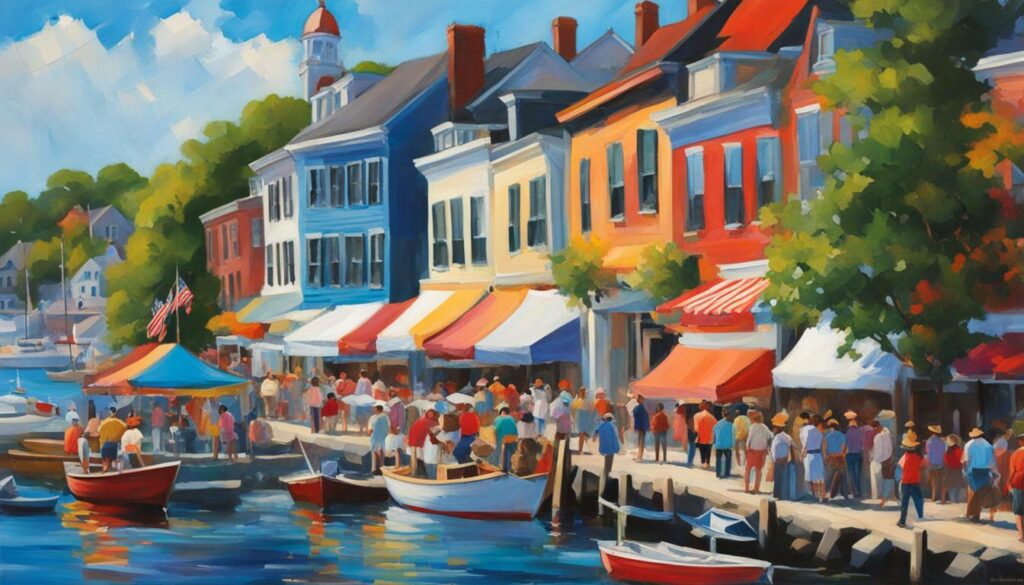 If you're planning a visit to Marblehead, make sure to check the schedule of events and plan your trip accordingly. The Marblehead Festival of Arts usually takes place in the summer, typically in July, while Glover's Regiment Summer Encampment occurs in August. These events attract visitors from all over, so be sure to book your accommodations in advance to secure a comfortable and convenient stay in Marblehead.
| Event | Date |
| --- | --- |
| Marblehead Festival of Arts | July |
| Glover's Regiment Summer Encampment | August |
Outdoor Activities and Water Sports
Engage in paddleboarding activities with SUP East Coast Style and discover Marblehead's picturesque coastline from a unique perspective. Glide along the calm waters, taking in the breathtaking views of the Atlantic Ocean and the rugged shoreline. Whether you're a beginner or an experienced paddler, SUP East Coast Style offers lessons and rentals to suit every skill level.
As you paddle along, you might spot playful seals or graceful seabirds soaring above. Feel the refreshing sea breeze on your face and the warmth of the sun as you navigate through the crystal-clear waters. Stand tall on your board, feeling a sense of tranquility and connection with nature.
To enhance your adventure, consider joining a guided tour with SUP East Coast Style. Explore hidden coves and secret beaches that are only accessible by paddleboard. Your knowledgeable guide will share interesting facts about the area's history and marine life, making your experience educational as well as enjoyable.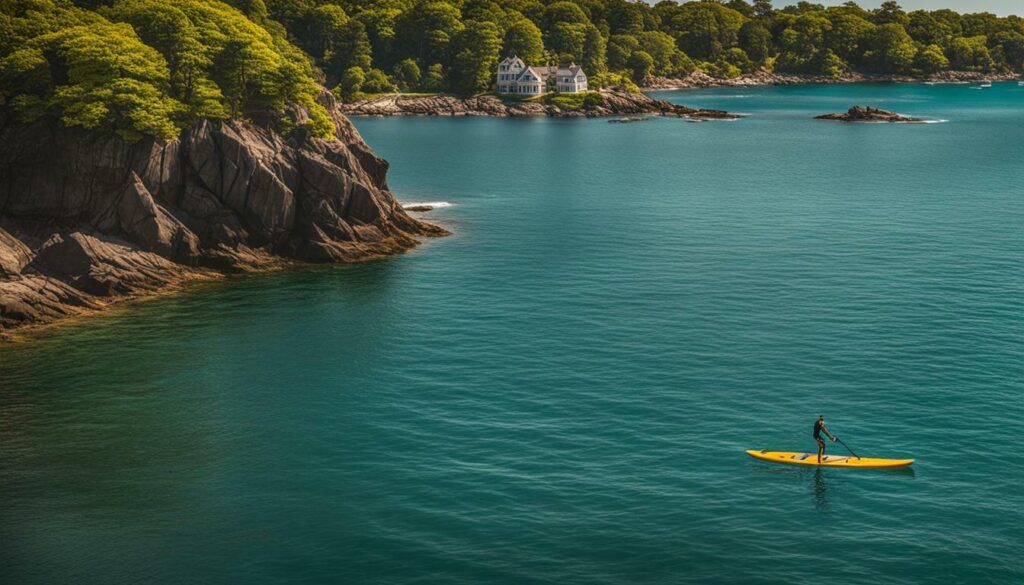 | Activity | Rental Cost | Duration |
| --- | --- | --- |
| Stand-Up Paddleboard Rental | $30 per hour | Flexible |
| Group Lesson | $50 per person | 1.5 hours |
| Guided Tour | $75 per person | 2 hours |
Accommodation and Conclusion
When visiting Marblehead, make your stay comfortable and convenient by booking a room at the centrally located Harbor Light Inn. This charming inn offers a cozy and welcoming atmosphere, making it the perfect home away from home during your visit to Marblehead.
The Harbor Light Inn provides a range of accommodations to suit every traveler's needs. From spacious guest rooms to luxurious suites, each tastefully decorated and equipped with modern amenities, you'll find everything you need for a memorable stay. Whether you're traveling solo, as a couple, or with family and friends, the inn has the perfect room to cater to your preferences.
Located in the heart of Marblehead, the Harbor Light Inn allows easy access to all the town has to offer. Start your day with a delicious complimentary breakfast before heading out to explore the historical sites, museums, and scenic beauty that Marblehead is known for. After a day of adventure, return to the inn and unwind in the cozy common areas or relax in the beautifully landscaped courtyard.
With its central location, comfortable accommodations, and warm hospitality, the Harbor Light Inn is the ideal base for discovering all that Marblehead has to offer. Book your stay today and create lasting memories in this picturesque Massachusetts town.