Welcome to the wonderful world of Oahu regions! From the North Shore to the Windward Coast, each area of this beautiful island offers a unique experience for you to explore. Whether you're a local or a visitor, there's always something new to discover in these distinct areas.
Let's delve into the diverse regions of Oahu. The North Shore boasts big waves, world-renowned surf competitions, and stunning beaches.
Central Oahu is home to the lush and scenic Wahiawa Mountains, as well as historic sites like the Dole Plantation.
The Windward Coast is a tropical paradise with picturesque views of the ocean and mountains, and Leeward Coast offers plenty of opportunities for outdoor recreation.
Finally, there's Honolulu, the bustling capital city with a mix of modern and traditional Hawaiian culture. So, pack your bags and get ready to explore the different regions of Oahu!
Key Takeaways
Oahu has various regions with unique attractions and features.
The North Shore is known for its big waves, surf competitions, and stunning beaches.
The Windward Coast offers picturesque views of the ocean and mountains, as well as attractions like Kualoa Ranch and the Polynesian Cultural Center.
Honolulu is the bustling capital city with popular tourist spots like Waikiki Beach, Diamond Head, and the Pearl Harbor National Memorial.
North Shore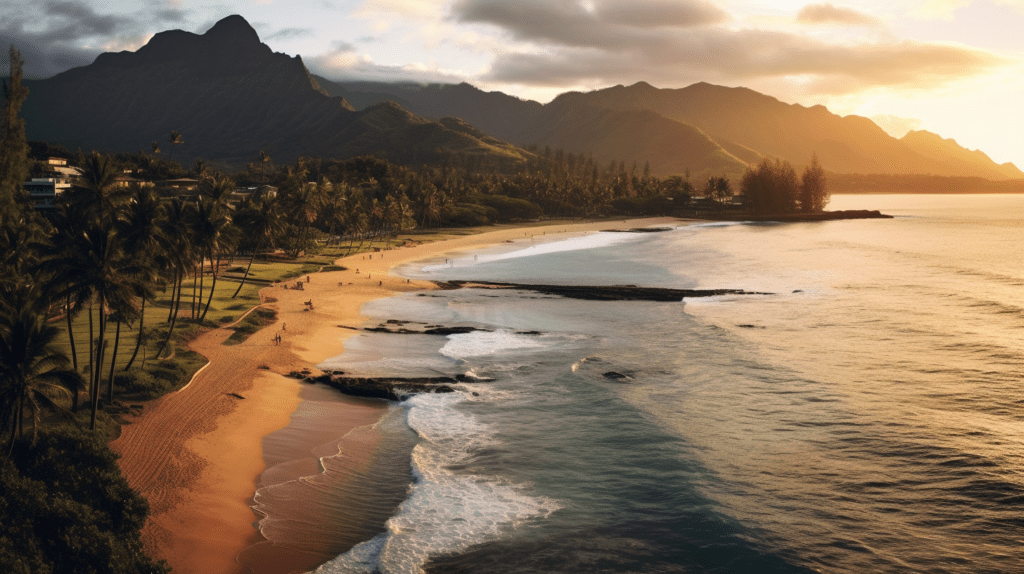 You'll love exploring the North Shore with its famous surf spots, charming small towns, and breathtaking ocean views. From Haleiwa to Sunset Beach, there are plenty of places to catch a wave or simply enjoy the scenery. Be sure to check out the world-renowned Banzai Pipeline, where surfers from around the globe come to challenge themselves on some of the biggest waves in the world.
But the North Shore isn't just about surfing. Take a stroll through the historic town of Haleiwa, where you'll find boutique shops, art galleries, and delicious local cuisine. Or, head to Waimea Bay for a refreshing swim in the crystal-clear waters.
With so much to see and do, the North Shore is a must-visit destination in Oahu. As you move on to explore central Oahu, you'll find a different side of the island waiting to be discovered.
Central Oahu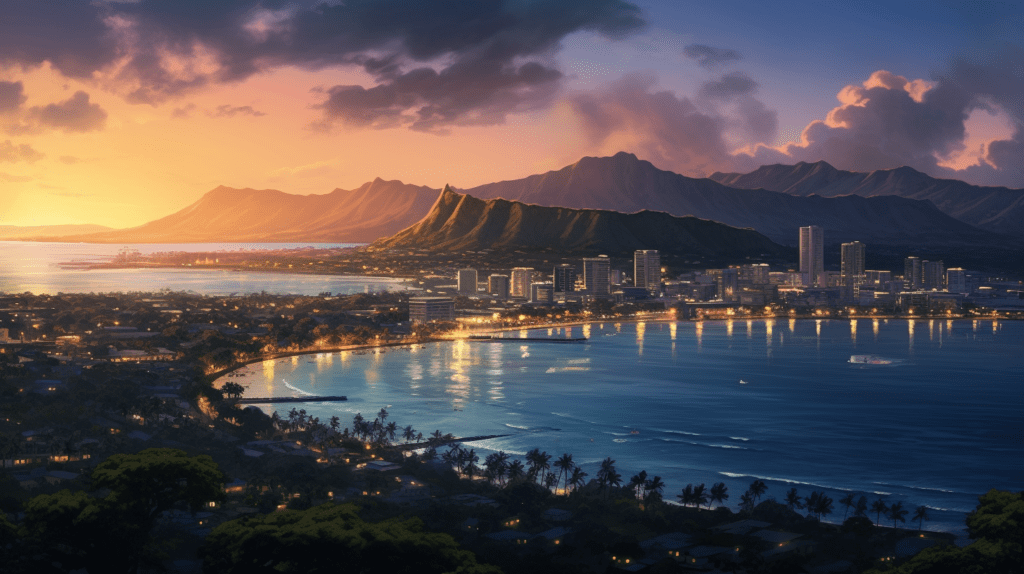 Located in the heart of Central Oahu, Wahiawa is home to over 20,000 residents and has an average annual rainfall of 68 inches. This lush, green town is surrounded by mountains and known for its agriculture, including pineapple and coffee farms. It's also home to the Dole Plantation, where you can learn about the history and cultivation of pineapples in Hawaii and take a train ride through the plantation.
As you make your way towards the east, you'll come across the Windward Coast, known for its stunning beaches and towering cliffs. But before you get there, be sure to make a stop at the famous Kualoa Ranch. Here, you can take a tour of the beautiful valley and see where many movies and TV shows have been filmed, such as Jurassic Park and Lost.
From there, you can continue your journey along the scenic drive and enjoy the breathtaking views of the Pacific Ocean.
Windward Coast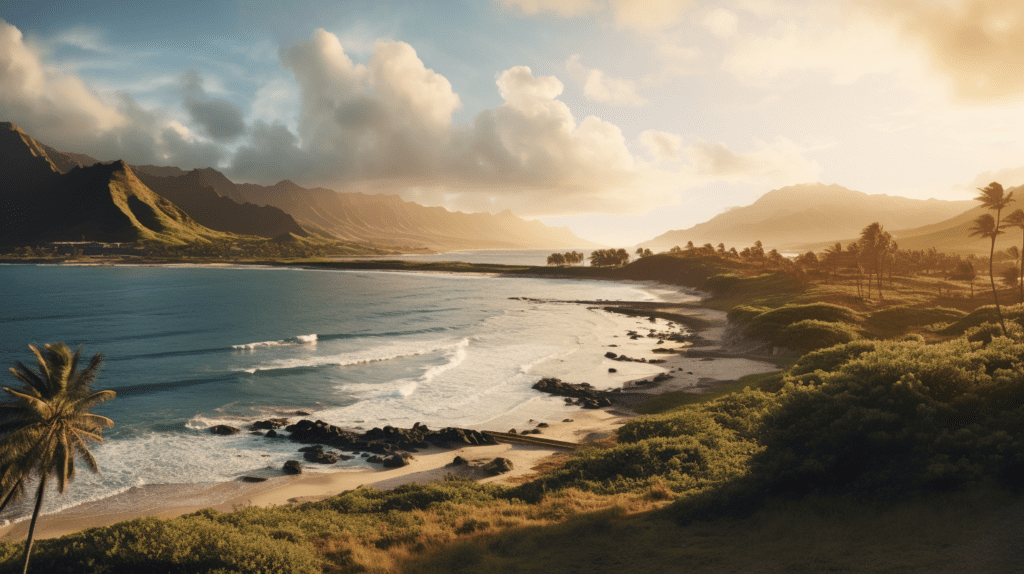 As you drive towards the east, the Windward Coast will greet you with its stunning beaches and towering cliffs, offering a picturesque view of the Pacific Ocean. This side of Oahu is known for its lush greenery and tropical rainforests, making it the perfect destination for outdoor enthusiasts.
You can hike the Makapu'u Lighthouse Trail, which offers panoramic views of the coast, or go kayaking in Kaneohe Bay, where you can explore the various islands and hidden coves.
But that's not all the Windward Coast has to offer. You can also visit the Polynesian Cultural Center, a living museum that showcases the traditions and cultures of the Pacific Islands. Or, if you're looking for some relaxation, you can spend a day at one of the many beaches, like Kailua Beach or Lanikai Beach, where you can soak up the sun and enjoy the crystal-clear waters.
As you leave the Windward Coast and head towards the next region, you'll notice a change in the landscape as you transition to the Leeward Coast.
Leeward Coast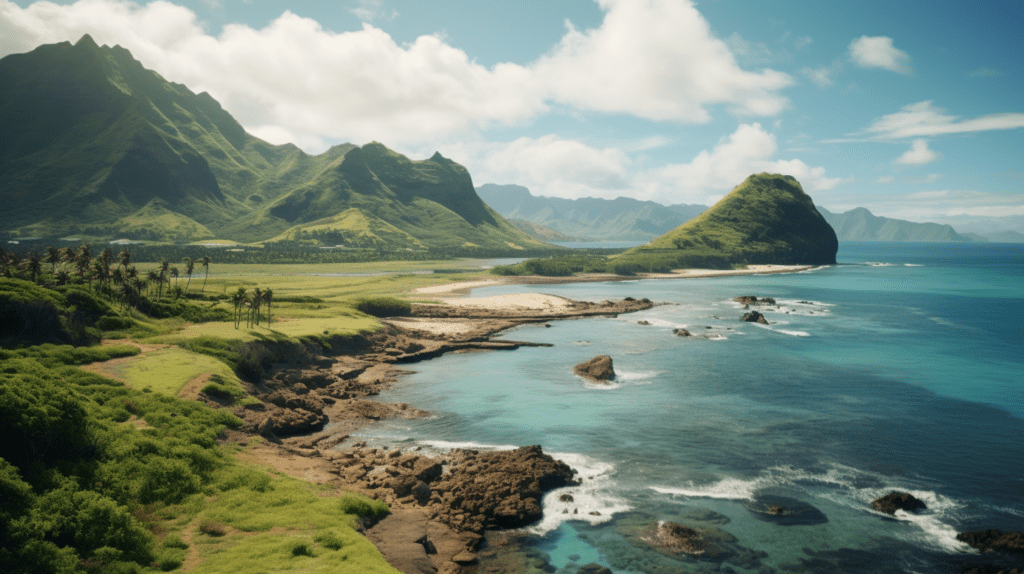 Get ready to experience some of the best surf on the island as you head down to the Leeward Coast! This region is known for its beautiful beaches and crystal clear waters, making it a perfect destination for snorkeling, swimming, and surfing.
One of the most popular spots for surfing is Makaha Beach, which offers challenging waves for experienced surfers. If you're a beginner, you can take a lesson from one of the many surf schools in the area.
When you're not in the water, there are plenty of other activities to enjoy on the Leeward Coast. Take a hike up to the top of Ka'ena Point for stunning views of the coastline and the chance to spot some local wildlife. Or, visit the Hawaiian Railway Society to ride on a historic train and learn about the history of rail transportation in Hawaii.
Whatever you choose to do, the Leeward Coast is a must-visit destination on Oahu.
As you head towards Honolulu, you'll find yourself transitioning from the laid-back lifestyle of the Leeward Coast to the bustling city atmosphere of Hawaii's capital.
Honolulu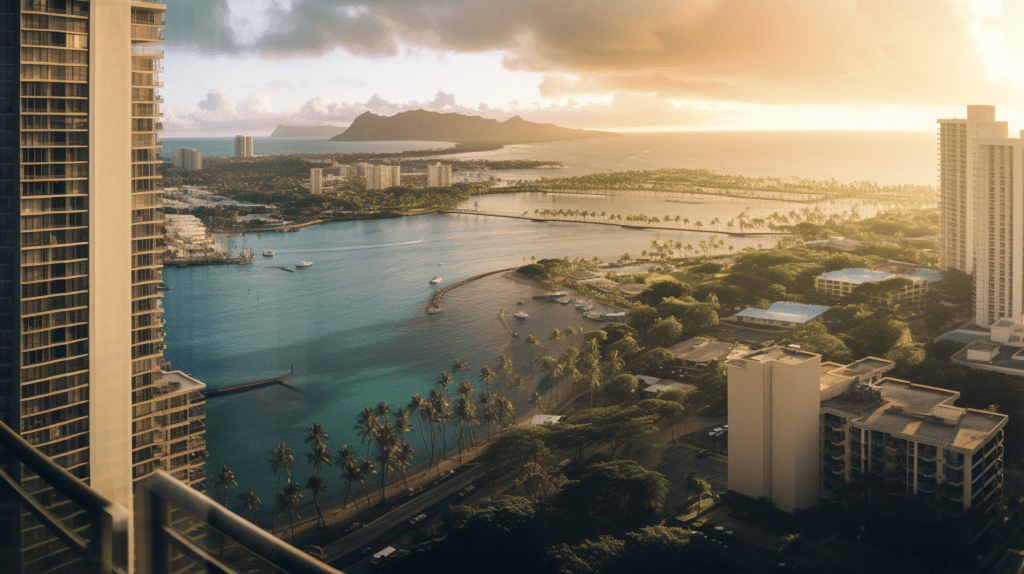 Now you're in Honolulu, where you'll find a bustling city full of culture, history, and plenty of things to do.
One of the first places you should visit is the iconic Waikiki Beach. This famous beach is known for its crystal clear waters, soft sand, and perfect waves for surfing. You can also stroll along the beachfront promenade and take in the stunning views of Diamond Head, a popular hiking spot.
For a taste of Hawaiian history and culture, head to the Bishop Museum. You'll find exhibits on Hawaiian traditions, artifacts, and even a planetarium.
Another must-see attraction is the Pearl Harbor National Memorial, where you can pay your respects to those who lost their lives during the attack on Pearl Harbor.
With its blend of modern attractions and rich history, Honolulu is a city that truly offers something for everyone.
Conclusion
Oahu is a treasure trove of diverse experiences, each region offering its own unique charm and attractions. From the big waves and surf competitions of the North Shore to the lush, scenic mountains of Central Oahu, there's an adventure waiting for every traveler.
The Windward Coast's picturesque views and the Leeward Coast's outdoor recreation opportunities are a nature lover's paradise. And finally, Honolulu, the vibrant capital city, offers a mix of modern and traditional Hawaiian culture, making it a must-visit destination.
Whether you're a thrill-seeker, a history buff, or someone seeking relaxation, Oahu has something to offer. So pack your bags, and get ready to embark on an unforgettable journey across the beautiful regions of Oahu. But before you go, make sure to check out our comprehensive Oahu Travel Guide. It's your ultimate companion to exploring all that Oahu has to offer. Let's make your Oahu adventure truly unforgettable!