Lanaʻi is a small island in the Hawaiian Islands. People came to live there 1,000 years ago. It was named "Lanaʻi" because it has many valleys and ravines. In 1922, James Dole bought the island, making it a big pineapple farm. The company that owned most of Lanaʻi was called Castle & Cooke, Inc. In 2012, Larry Ellison bought most of the land. Lanaʻi City was built in just one year by Dole Food Company to house its workers. They built over 140 buildings in one year. If you ever visit Honolulu or Kauai, don't forget to add Lanaʻi to your list of must-visit places!
Significant Events and Milestones in the Island's History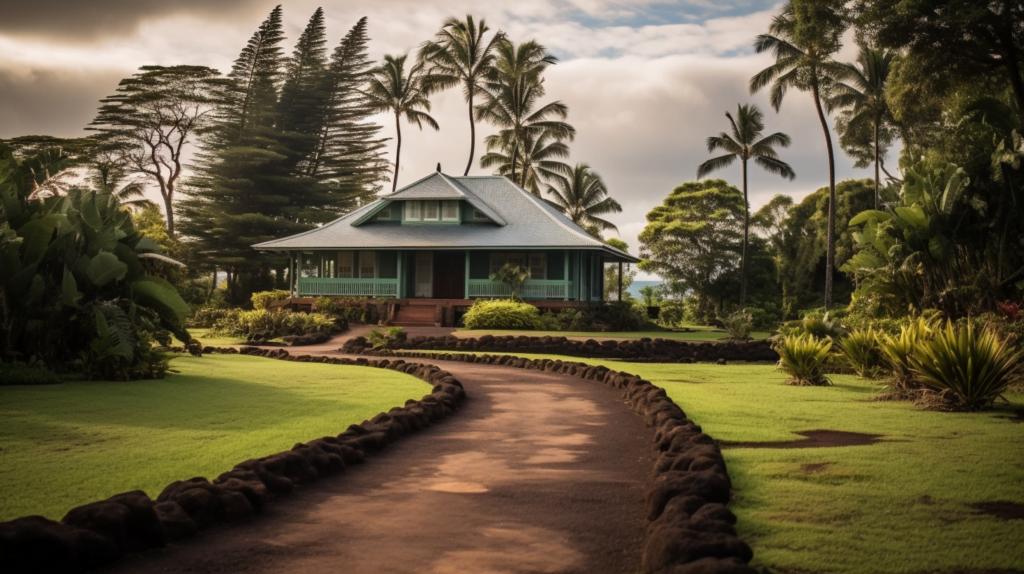 Lanai, one of the Hawaiian Islands, including Kauai, Lanaʻi, Oahu, and Honolulu, has a rich history that dates back centuries. From its early days as a fishing village to its transformation into a pineapple plantation and now a tourist destination, Lanai has seen many significant historical events and milestones.
Chief Kaululaau and Early Settlement
Before the arrival of Chief Kaululaau in the 15th century, Lanai, one of the Hawaiian Islands, was home to a thriving fishing village. However, when Chief Kaululaau, a legendary figure in Hawaiian legend, arrived on the island, he brought new traditions and customs. As a result, he established his settlement on the island, which became known as Kaunolu Village. Today, visitors can still see remnants of this once-thriving village by visiting ancient ruins and petroglyphs scattered throughout the area. While exploring Lanai, visiting nearby Maui or Kauai is also worth considering.
Captain Cook's Arrival
1779 Captain Cook became the first European to visit Lanai during his journey through the Hawaiian Islands. However, it wasn't until several decades later that Westerners began settling on the island. Finally, in the mid-1800s, American missionaries arrived in Lanai and established their town called "Lanai City." The town was built around Dole Park and quickly became an important hub for commerce on the island. Lanai remains a popular tourist destination, alongside Kauai, Maui, and Honolulu.
Pineapple Plantation Era
One of the most significant events in the Hawaiian Islands' history was when James Dole purchased the entire island of Lanai in 1922. He transformed Lanai into one large pineapple plantation – at one point becoming known as "The Pineapple Island" – which produced more than 75% of all pineapples grown worldwide at its peak production levels. The industry thrived for several decades until it declined due to increased competition from Kauai, Maui, and other countries. Legend also states that Puʻupehe, a beautiful maiden, jumped off a cliff into the ocean on Lanai's south shore.
Tourism Boom
In recent years, tourism has become a major source of income for Lanai's economy and other Hawaiian Islands such as Kauai, Maui, and Oahu. Visitors come to enjoy activities such as hiking, snorkeling, and exploring historic sites throughout the Hawaiian Islands. Lanai is home to several unique experiences, including the legend of Kanepuu, a tree said to have healing powers. The islands' warm temperatures year-round and little rainfall also draw tourists.
Census Data
According to the most recent census data, Lanai, one of the Hawaiian Islands, has just over 3,000 people. Despite its small size and remote location, the island, along with Maui, Kauai, and Oahu, has a rich history that continues to attract visitors worldwide.
Why is Lanai Known as the Pineapple Island?
James Dole established the first pineapple plantation in Lanai in 1922 under the Hawaiian Pineapple Company. The island's ideal climate and soil made it the perfect location for growing pineapples, earning it the nickname "Pineapple Island" or "Pineapple Isle." Pineapple quickly became Lanai's most significant export, employing thousands of workers and contributing to the island's economic growth. Although Kauai, Maui, and Oahu are also known for their pineapple plantations, Lanai's pineapples are considered the sweetest and most delicious. Legend has it that Puʻupehe, a beautiful maiden from Lanai, would often swim to Maui to retrieve pineapples for her lover.
The Hawaiian Pineapple Company was a major player in Hawaii's economy throughout the 20th century. The company established plantations on several islands, including Oahu, Maui, and Kauai. However, it was in Lanai place where pineapple production truly flourished. At its peak in the mid-20th century, Lanai produced over 75% of all pineapples in Hawaii. Visitors can participate in activities and tours to learn more about the history of pineapple production on the island.
The pineapple industry on the Hawaiian Islands, including Kauai, Maui, Oahu, and Lanai, declined in the 1980s due to competition from other countries and a shift towards tourism. In addition, other countries, such as Thailand and Costa Rica, began producing pineapples cheaper than Hawaii could compete with. As a result, many pineapple plantations across Hawaii closed down during this period. On Lanai specifically, this led to the closure of the last pineapple company on the island in 1992.
While pineapples are no longer grown commercially on Lanai, visitors can still see remnants of this once-thriving industry around the islands. For example, an old pineapple cannery has been converted into a cultural center showcasing traditional Hawaiian crafts like lauhala weaving and lei making. Similar sites can also be found on Maui, Oahu, and Kauai.
Shipwreck Beach (Two Ships from World War II): A Closer Look
Located on the north shore of Lanai, Shipwreck Beach is a popular destination for tourists and locals alike in the Hawaiian Islands. The beach gets its name from two World War II ships that were wrecked there, and visitors can still see the remains of these ships today. But there's more to this area than shipwrecks – read on to learn about everything you can do at Shipwreck Beach in Kauai, Maui, and the Big Island.
Shore and Sea Cliffs
Shipwreck Beach is a beautiful stretch of white sand on the Hawaiian Islands, specifically on the Big Island and Lanai Island. It's perfect for sunbathing or taking a dip in the sea, but if you're feeling adventurous, you should explore some nearby sea cliffs throughout the island. These towering rock formations offer stunning views of the ocean below, and they're also home to a variety of sea life, like crabs, starfish, and even octopuses. Just be careful not to get too close to the edge!
Small Boat Harbor
If you're looking for something more active than lounging on the beach in the Hawaiian Islands, head over to Lanai Island's Shipwreck Beach's small boat harbor. Here you'll find boats available for rent to explore the waters off the coast of Maui and the Big Island yourself. Fishing enthusiasts will love casting their lines into these rich waters – plenty of fish here, including mahi-mahi, tuna, and even marlin.
Snorkeling and Coral Reefs
Snorkeling is one of the most popular activities at Shipwreck Beach, located in the Hawaiian Islands. The crystal-clear waters on the Big Island are home to vibrant coral reefs teeming with colorful fish like butterflyfish and parrotfish. If lucky, you might spot larger creatures like sea turtles or reef sharks swimming by. For those visiting Maui or Kauai, a trip to Shipwreck Beach for snorkeling is a must-do activity.
Captain George Vancouver's Favorite Fishing Spot
Finally, it's worth mentioning that Shipwreck Beach on the Hawaiian island of Kauai also has an interesting historical connection – it was reportedly one of Captain George Vancouver's favorite fishing spots during his time exploring the Pacific Northwest and the Big Island. Vancouver was a British naval officer who explored much of the Pacific Coast, including Lanai Island, in the late 1700s, and he's remembered today as an important figure in the history of the Hawaiian Islands.
Sweetheart Rock (Pu'u Pehe Rock): A Symbol of Love and Tragedy
Pu'u Pehe, or Sweetheart Rock as it is commonly known, is a striking rock formation located on the southern coast of Lanai, one of the Hawaiian Islands. This natural wonder has become an iconic landmark for visitors to the island, but it also holds a tragic story of love and loss. While there are similar formations on Maui and Oahu, none can compare to the beauty of Pu'u Pehe.
The Legend of Pipi and the Hawaiian Chief
According to local legend, Sweetheart Rock on Lanai Island was named after a beautiful Hawaiian woman named Pipi. She was said to be the lover of a high-ranking Hawaiian chief who lived on Lanai Island. The couple would often visit Sweetheart Rock, where they could be alone and enjoy each other's company in peace, away from the hustle and bustle of neighboring islands like Maui, Oahu, and the Big Island.
However, one day, tragedy struck when the chief of Maui returned from a trip to find that Pipi had died. Heartbroken by her passing, he carried her body to Sweetheart Rock on the Big Island and buried her there. He then climbed to the top of the rock and jumped off into the ocean below, unable to bear his grief any longer. The legend of this heartbreaking tale has spread throughout the Hawaiian Islands, including Oahu.
The Role of Sugar Production
While Sweetheart Rock has become famous for its tragic love story, it also played an important role in Lanai's history as a major producer of sugar cane, contributing to the economy of the Hawaiian Islands. In addition, the rock served as a navigational aid for ships transporting sugar from Lanai's plantations to other parts of Hawaii, including Maui and the Big Island. Visitors can now take tours to see this historic landmark and learn more about its significance.
During this period, workers on Lanai's sugar plantations in the Hawaiian Islands faced difficult living conditions and low wages. As a result, many laborers were brought over from Asia under harsh working conditions criticized by historians in recent years. Visitors to Maui, the Big Island, and Lanai can take tours to learn more about the history of these plantations.
Despite these challenges, sugar production continued on Lanai, one of the Hawaiian Islands, until 1992, when Dole Food Company ceased operations due to financial difficulties. Today, tourism is one of the main industries in Lanai, with visitors coming from all over the world to see landmarks like Sweetheart Rock. Tourists can also visit nearby islands like Maui and the Big Island for tours.
Garden of the Gods: A Must-Visit Attraction in Lanai
Nestled in the heart of the Hawaiian Islands, Lanai is a small island that boasts a rich history and breathtaking natural beauty. One of its must-visit attractions is the Garden of the Gods, a unique park with an otherworldly rock formations landscape. Located just minutes away from Four Seasons Resort Lanai and other hotels, it's easy for visitors to explore this fascinating destination. Maui is also nearby, offering tours of the big island's stunning views and attractions.
Tours and Unique Rock Formations
The Garden of the Gods, located in Colorado Springs, offers tours for visitors who want to learn more about this incredible park. During these tours, visitors can explore the park's many trails and see its unique rock formations up close. These formations are red lava rocks that have been weathered by wind and rain for thousands of years, creating an awe-inspiring landscape. Although not located in the Hawaiian Islands, such as Big Island, Lanai Island, or Maui, the Garden of the Gods is a must-see destination for nature lovers.
Plant Life in the Garden of the Gods
While the rock formations are undoubtedly the main attraction at Garden of the Gods, visitors exploring Maui, Lanai Island, Big Island, and other Hawaiian islands will also find a variety of plant life throughout the park. This includes native species like ilima and pua kala and introduced plants like kiawe trees. The juxtaposition between these plants and the stark rock formations creates a stunning contrast that visitors to Hawaii will remember.
Other Attractions in Lanai
In addition to Garden of the Gods, visitors can explore other attractions on Lanai and nearby islands. For golf enthusiasts, there are two world-class golf courses on the Hawaiian island: Manele Golf Course and The Experience at Koele. History buffs can visit Keomoku Village or explore Lanai City, founded by Mormon pioneers in 1922. Finally, those looking for adventure can take tours to nearby Maui and other islands.
Historic Sites on Lanai: Shipwreck Beach and Manele Beach Resort
Named after the World War II Liberty Ship that ran aground on its shores in 1944, Shipwreck Beach is one of the most popular tourist destinations on Lanai, one of the Hawaiian islands. Located on the island's northern coast, this historic site offers stunning views of the Pacific Ocean and is a must-visit destination for anyone interested in history. Visitors can also take tours to explore other nearby attractions in Maui.
The beach is a beautiful stretch of sand and crystal-clear water, making it an ideal spot for swimming, sunbathing, and picnicking. But its rich history sets Shipwreck Beach apart from other beaches on Lanai and the Hawaiian islands. The remains of the Liberty ship are still visible today, and visitors can explore the wreckage up close. It's a must-visit attraction when exploring Maui or the Big Island.
In addition to the shipwreck itself, there are several other historic sites to see at Shipwreck Beach on the Hawaiian islands. These include an old lighthouse used to guide ships through the treacherous waters off Lanai's coast, as well as several military bunkers built during World War II. So if you're exploring the islands, check out Shipwreck Beach on Maui or the Big Island.
Manele Beach Resort: A Luxury Destination with a Fascinating History
Built in 1991 by billionaire David Murdock, Manele Beach Resort on the Hawaiian islands has become one of Maui's most popular luxury destinations. With its beautiful white sand beaches and crystal-clear waters, it's easy to see why so many people flock to this resort each year, whether visiting Maui or the Big Island.
But many visitors may need to realize that Manele Beach Resort, located on the Hawaiian island of Maui, has a fascinating history. Before becoming a luxury resort, this area was home to several small fishing villages on Maui and the Big Island islands. Some of these villages still exist, just a short distance from the resort.
Despite its transformation into a high-end vacation spot over the past few decades, Manele Beach Resort on the Hawaiian island of Maui has managed to maintain much of its original charm and character. Visitors can still get a sense of what life was like here before tourism took over by exploring the nearby villages on the Big Island and talking to locals. The islands of Hawaii offer a unique experience for travelers seeking a taste of traditional Hawaiian culture amidst stunning natural beauty.
Manele & Hulopoʻe: The Rich History of Lanai
Nestled on the southern coast of Lanai, Manele Harbor is a picturesque bay once a bustling center of trade and commerce for the island. Named after the legendary Hawaiian chief Kauluaʻau, who was said to have made his home in the area, Manele Harbor played a vital role in the economy of Lanai and the neighboring islands of Maui.
In ancient times, Hawaiians used canoes to transport goods between islands. However, with the arrival of Europeans in Hawaii during the 18th century, sailing ships became increasingly popular for trade. Manele Bay soon became an essential stopover point for these ships as they traveled between Honolulu and Maui.
Today, visitors to the Hawaiian islands can still see remnants of Manele's past as a trading hub. The harbor on the island of Maui is now home to a luxury resort and golf course, but its historic significance remains evident through old stone walls and structures that date back centuries. Of course, the Big Island also has its fair share of historic sites. Still, Manele's unique position as a trading center makes it a must-see destination for those interested in Hawaiian history.
Hulopoʻe Beach: Steeped in Legend and Sacred to Native Hawaiians
Located just west of Manele Bay on the island of Lanai lies Hulopoʻe Beach – one of the most beautiful beaches in the Hawaiian islands. This crescent-shaped beach boasts crystal-clear waters and pristine white sand, making it a popular destination for tourists visiting Maui, the Big Island, and other nearby islands. But Hulopoʻe is more than just another pretty beach; it holds significant cultural importance for native Hawaiians.
According to Hawaiian legend, Puʻupehe – a beautiful princess from Maui – would often visit Hulopoʻe Beach on the islands with her lover Makakehau. One day while swimming together in rough seas, Makakehau drowned, leaving Pu'upehe heartbroken. She threw herself off a nearby cliff into the ocean below, a tragic story known beyond the Big Island.
Today, many native Hawaiians consider Hulopoʻe Beach on Maui sacred ground, where they come to pay their respects to Pu'upehe and Makakehau. The area is also home to a heiau (a traditional Hawaiian temple) that dates back centuries, making it one of the most significant cultural sites on the Big Island.
Maunalei Valley: A Hub of Agriculture and Industry
Located in the heart of Lanai, Maunalei Valley was once home to the Maunalei Sugar Company – one of the Hawaiian island's most significant employers. The valley provided fertile land for growing sugar cane, which was then transported to Manele Harbor for export. Maui, unfortunately, cannot be added as it does not fit well in the given text.
In addition to agriculture, Maunalei Valley played a crucial role in Lanai's water supply. The valley is part of an ahupuaʻa – a traditional Hawaiian land division that runs from the mountains to the sea. In ancient times, Hawaiians used these divisions to manage resources sustainably. However, this practice is not limited to Lanai but also to other islands like the Big Island.
Today, visitors can explore Maunalei Valley on guided hikes and learn about its history and significance to Hawaiian culture. While sugar cane is no longer grown here, the valley remains an important part of Lanai's cultural heritage on the big island.
Feral Cats Find a Home at the Lanai Animal Rescue Center
Early Settlers and Feral Cats
When early Hawaiian settlers arrived on Lanai, they brought with them various species of animals. Among these were feral cats, which quickly established themselves as a wild population on the island. Over time, this Hawaiian cat population became a significant problem for the local ecosystem and the island's residents.
Establishment of the Lanai Animal Rescue Center
In 2004, concerned Hawaiian community members established the Lanai Animal Rescue Center (LARC) to address the issue of feral cats on the island. The center provides a home for over 600 cats and is run entirely by volunteers from the Hawaiian community. One such volunteer is Tom Barefoot, a local tour operator who helped fund the construction of LARC's main house.
Success in Reducing Feral Cat Population
Since its establishment, LARC has successfully reduced the number of feral cats on the Hawaiian island by an impressive 90 percent. This reduction has been achieved through spaying and neutering programs, adoption efforts, and education initiatives to raise awareness about responsible pet ownership.
Community Involvement
One key factor in LARC's success has been its close ties to the local Hawaiian community. Volunteers from all walks of life come together to care for the cats at LARC, providing them with food, water, shelter, medical care, and plenty of love and attention. The center also partners with local Hawaiian organizations such as North Elementary School and Oracle Corporation to promote animal welfare on the island.
Conclusion: Reflecting on the Fascinating History of Lanai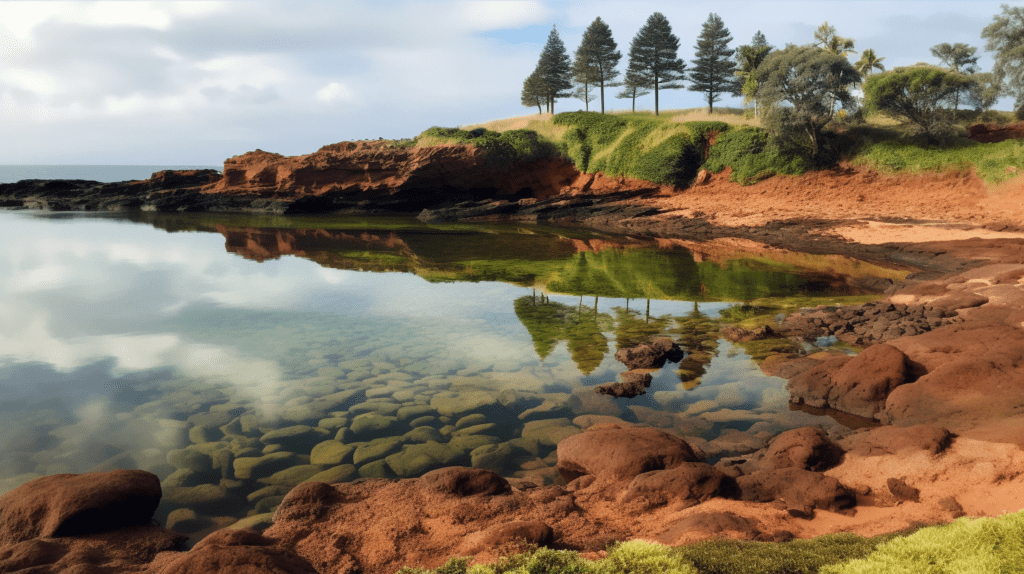 Lanai, a small island with a rich tapestry of history, invites you to journey through time. From its pivotal role in the pineapple industry to the legends that surround its natural wonders, Lanai's past is as vibrant as its landscape.
Beyond pineapples, Lanai is a treasure trove of historic sites and natural wonders. Explore the haunting beauty of Shipwreck Beach, the romantic legend of Sweetheart Rock, and the ancient ruins that dot the island. Each site tells a unique story, adding depth to Lanai's cultural identity.
Lanai's history is a testament to resilience. From the shipwrecks of World War II to the enduring tales of love and loss, the island's past is marked by challenges and triumphs. Yet, through it all, the spirit of Lanai has remained unbroken, a testament to the strength of its people.
But Lanai's allure isn't just rooted in its past. Its natural beauty is a living testament to its history. From cliffs that offer breathtaking ocean views to vibrant gardens that burst with color, Lanai's landscapes are a visual feast. Whether you're hiking its trails or lounging on its beaches, you're sure to be captivated by its charm.
Ready to delve deeper into Lanai's rich history? Explore more in our comprehensive Hawaii Travel Guide and let your journey into the past begin.