On Hawaii's largest island, sustainability is not just a buzzword, but a way of life. Big Island Sustainability is about building a greener future together, one that takes care of the environment while also supporting sustainable economic development and improving the quality of life for residents.
The concept of sustainability encompasses many different aspects, from eco-friendly initiatives to renewable energy and sustainable agriculture. Throughout this article, we will explore how the Big Island community is committed to preserving the natural environment while also embracing sustainable practices and development.
Key Takeaways:
Big Island Sustainability is about building a greener future that supports sustainable economic development and improves the quality of life for residents.
There are many aspects of sustainability, including eco-friendly initiatives, environmental conservation, sustainable living, renewable energy, and an eco-conscious community.
We will explore various examples of sustainable practices and initiatives on the Big Island that are contributing to a more sustainable future.
Sustainable Practices on Big Island
The Big Island of Hawaii is home to a growing number of sustainable practices and initiatives aimed at reducing the island's carbon footprint and preserving its natural resources.
From the adoption of energy-efficient buildings to the implementation of recycling programs, individuals, businesses, and the community at large are embracing eco-friendly initiatives and green technologies.
One such example is the Kona Green Business Program, which recognizes businesses that meet sustainability criteria such as waste reduction, energy conservation, and water conservation. Participating businesses receive a certification that demonstrates their commitment to environmental stewardship.
Another example is the Bikeshare Hawaii program, which provides a network of shared bicycles for residents and visitors to use as an alternative to cars. This initiative helps to reduce carbon emissions and traffic congestion while promoting healthy and active lifestyles.
Sustainable Transportation Options
The Big Island also offers sustainable transportation options such as the Hele-On Bus system, which operates on biodiesel fuel and provides affordable public transportation throughout the island. Additionally, the Volcano Village Farmers Market hosts a free shuttle service for visitors, reducing the need for individual car transportation. These sustainable transportation initiatives are helping to reduce the environmental impact of transportation on the Big Island.
Energy Conservation and Sustainable Buildings
The Big Island is also home to a number of energy-efficient buildings and sustainable developments, such as the Green Point Rated West Hawaii Explorations Academy. This LEED-certified building features features such as solar panels, water-saving fixtures, and recycled building materials. Other green buildings on the island include the Kohanaiki Beach Club and the Kamuela Inn, both of which have received recognition for their sustainable design and eco-friendly practices.
With a growing number of sustainable practices and initiatives, the Big Island of Hawaii is taking important steps towards a greener future and setting an example for other communities to follow.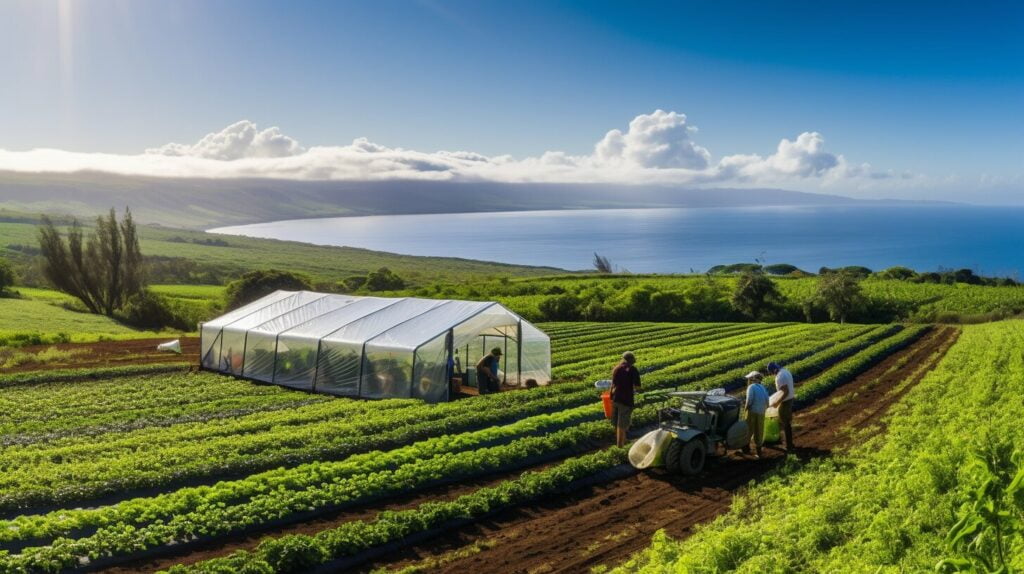 Environmental Conservation on Big Island
The Big Island of Hawaii is home to a diverse range of ecosystems, including rainforests, coral reefs, and volcanic landscapes. As such, environmental conservation is a crucial aspect of sustainability on the island. Fortunately, there are numerous organizations and initiatives focused on preserving and protecting the island's natural resources.
One example is the Hawaii Forest Institute, which works to restore and conserve Hawaii's forests through research, education, and outreach programs. The Institute has helped establish tree nurseries, conduct ecological surveys, and provide educational resources to the community.
Another notable initiative is the Hawaii Wildlife Fund, which focuses on protecting and restoring the island's marine and coastal ecosystems. The organization conducts beach cleanups, monitors marine life populations, and advocates for sustainable fishing practices.
Additionally, the Big Island Invasive Species Committee (BIISC) plays a critical role in protecting the island from invasive species that can harm the environment and economy. BIISC works with the community to monitor and control invasive species, conduct research, and educate the public on the importance of preventing their spread.
Through these conservation efforts and more, the Big Island is working towards a sustainable future where the preservation of its unique ecosystems is a top priority.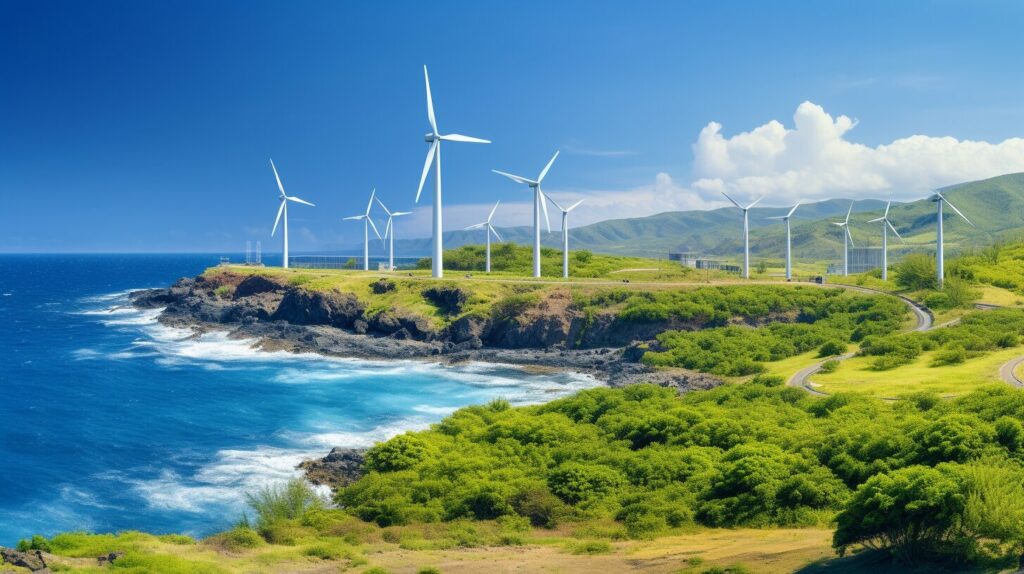 Sustainable Living on Big Island
Living sustainably has become a growing trend on the Big Island. From organic farming to reducing waste, residents are embracing eco-friendly practices to minimize their environmental impact.
The island's agricultural industry plays a significant role in promoting sustainable living. Farmers are adopting sustainable practices such as crop rotation, composting, and using natural fertilizers. According to a report by the University of Hawaii, the Big Island produces the most organic produce in the state, with over 420 farms certified organic or in transition.
| Sustainable Living Practices on Big Island | Description |
| --- | --- |
| Zero waste | Communities are working towards zero waste by reducing, reusing, and recycling. A zero-waste recycling program, began in 2019, aims to divert 95% of waste from landfills by 2030. |
| Local and Organic Food | The island offers a variety of locally sourced, organic food options, making it easier for residents to support sustainable agriculture. The Hilo Farmers Market is one of the largest in the state, featuring over 200 vendors selling local organic produce, prepared foods and crafts. |
| Green Building | Residents are embracing energy-efficient building designs, using eco-friendly materials and harnessing natural energy sources. |
Overall, the community's commitment to sustainable living has contributed to the island's unique charm and natural beauty.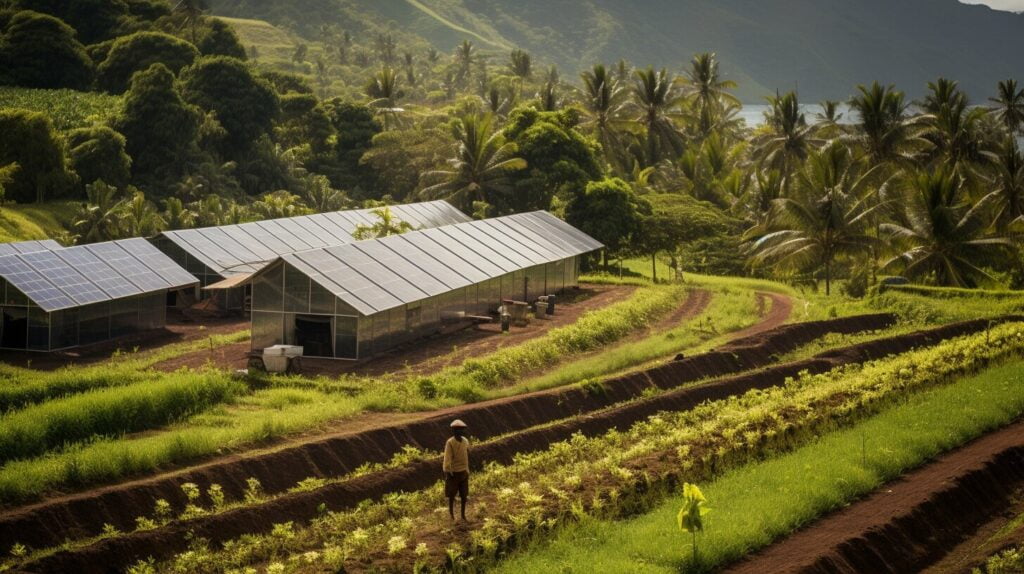 Renewable Energy on Big Island
The Big Island is leading the way in Hawaii's transition towards clean, sustainable energy. The island has set a goal of using 100% renewable energy by 2045, and has already made significant progress towards achieving this target.
One of the island's most notable renewable energy projects is the Hawaii Electric Light Company (HELCO) community-scale solar and battery storage system in Waikoloa. This system provides clean energy to the local community while also reducing the island's dependence on fossil fuels. Other large-scale renewable energy projects on the Big Island include wind farms and geothermal power plants.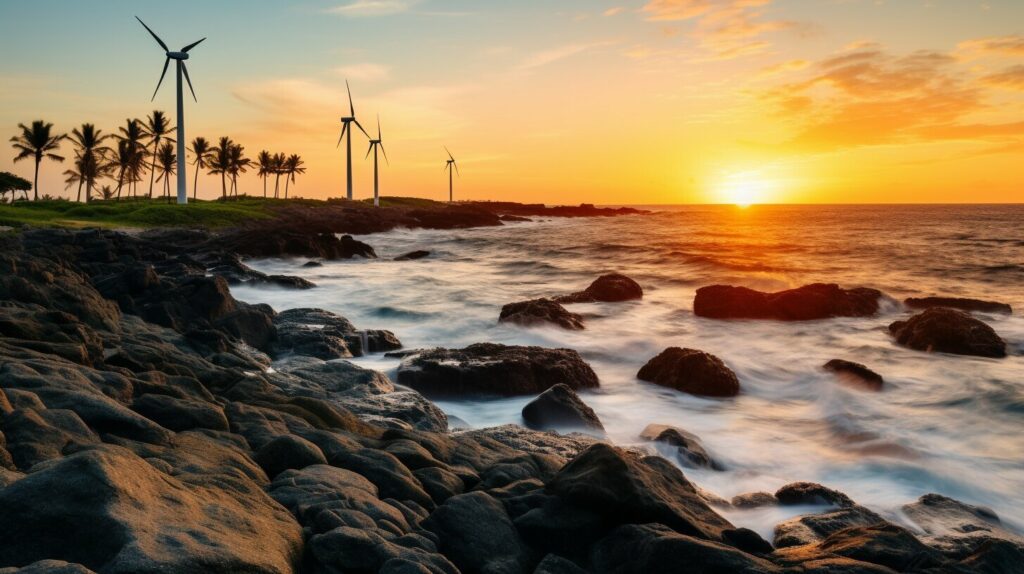 In addition to large-scale projects, many residents and businesses on the Big Island are also adopting renewable energy sources such as solar panels and wind turbines on a smaller scale. These individual efforts are crucial in achieving the island's goal of complete renewable energy use.
Overall, the Big Island's commitment to renewable energy is setting an example for the rest of Hawaii and beyond. By transitioning to clean energy sources, the island is reducing its carbon footprint and preserving its natural environment for future generations.
Eco-Conscious Community on Big Island
The eco-conscious community on the Big Island is committed to sustainability and environmental responsibility. Residents actively participate in community-based sustainability initiatives, such as beach clean-ups, tree planting, and educational programs. The sense of environmental awareness is deeply ingrained in the community, driving them to take action to preserve the natural beauty of the island.
One of the community-led initiatives is the Big Island Community Coalition (BICC), an organization focused on promoting sustainable development on the island. BICC advocates for responsible growth and development, supporting renewable energy projects and conservation efforts.
Another noteworthy organization is the Hawaii Wildlife Fund, dedicated to protecting Hawaii's marine ecosystem. The organization engages volunteers and community partners in beach clean-ups and conservation projects, raising awareness of the importance of marine conservation.
The eco-conscious community also supports sustainable tourism, promoting responsible travel practices that minimize the impact on the environment. Eco-friendly accommodations and tours are becoming increasingly popular, allowing visitors to experience the natural beauty of the island while supporting sustainable tourism.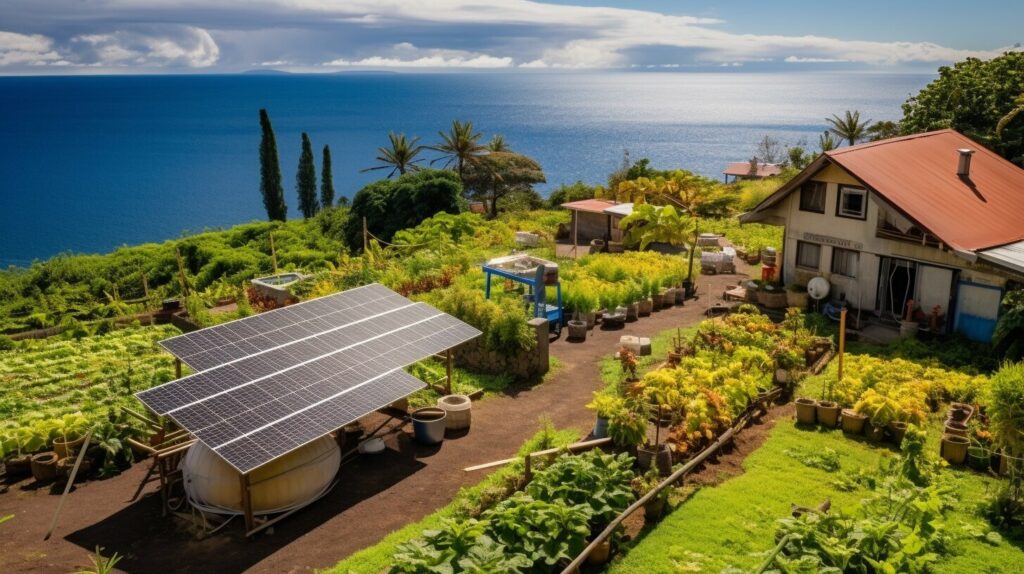 Conclusion
In conclusion, the concept of Big Island Sustainability is essential for building a greener future on Hawaii's largest island. Through sustainable practices, environmental conservation, sustainable living, renewable energy, and an eco-conscious community, the island is making significant strides in reducing its carbon footprint and preserving its natural resources.
The efforts of individuals, businesses, and organizations have contributed to the island's progress towards sustainability. It is important to continue these efforts and encourage others to adopt eco-friendly practices and get involved in local sustainability initiatives.
By working together, we can create a more sustainable and environmentally conscious community on the Big Island and beyond. Let's continue to prioritize sustainability and make a positive impact on our planet.